M&E specialist went under in March, blaming Carillion's implosion for its demise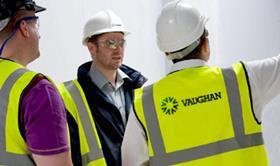 Dozens of firms and former employees are out of pocket by more than £11m after Vaughan Engineering Ltd collapsed into administration just before Easter.
The M&E specialist called in KPMG at the end of March, making close to 150 staff redundant and bringing to an end 50 years of trading.
Vaughan, which was set up in 1968 after its Northern Ireland parent set up an office at Broxburn on the outskirts of Edinburgh, said it was felled by Carillion's collapse after saying the bust contractor owed it at least £600,000. It had been due to carry out more than £1m worth of work for the firm in the first quarter of this year.
In a note accompanying its report, joint administrator Tony Friar said: "The company incurred significant trading losses in recent years, primarily attributable to two contracts where disputes arose. In early 2018, the cash position significantly deteriorated as a result of the insolvency of a key customer and the resolution of significant customer disputes not progressing as anticipated."
He added: "This resulted in a significant additional cash requirement by the end of March 2018 and attempts to secure additional funding were unsuccessful. In addition, the Company was advised by one of the disputing customers that payment would not be forthcoming in the foreseeable future. These factors resulted in the Company being unable to satisfy its debts as they fell due."
KPMG said the firm owed unsecured creditors £11.1m with out of pocket employees, owed more than £800,000 between them, including £268,000 in missing wages and holiday pay, told they will only be able to claim up to £800 each while unsecured creditors "may receive a small dividend".
Trade creditors are owed a total of £9.2m with the firm facing the largest hit being EON-owned Matrix Control Solutions, owed £468,000. HMRC is owed more than £668,000.
Secured creditor Danske Bank is owed £2.9m and is expected to receive a "partial" payout, according to KPMG. But it warned: "The outcome for the Bank will be dependent on the extent of debtor recoveries secured and the associated costs of realisation and of the Administration generally."
Vaughan also had offices in Newcastle upon Tyne and Warrington. The company's parent, which was set up in 1955 in Newtonabbey, employs around 250 people and remains unaffected by its sister firm's administration. Another sister firm, ductwork contractor Brankin, is also unaffected.