The Faithful + Gould consultant has a full view of London from his 31st floor office in the Euston Tower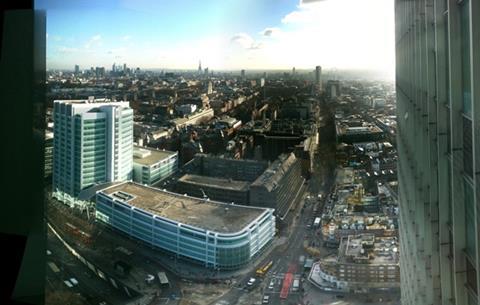 What do you see?
Being high up in the Euston Tower I can pretty much see all of London south to Crystal Palace transmitting station. I'm pretty hooked on following the progress of The Shard, my team have been raving about it since it started going up.
What floor are you on?
The 31st!
What are you working on?
I'm currently working on about 5 or 6 retail projects in the South East. It's an exciting industry to work in and can be rewarding to see a project delivered in such a short timescale.
What's on your desk?
Today my desk is smothered with folders, plus the other necessaries: laptop, screen and phone. And lest I forget, my beloved iPhone.
What's your all time favourite view?
Djeema el-Fna in Marrakesh. The market place hasn't changed for hundreds of years, it's like a step back in time. Plus, the food is mega.
Liam Bray is sustainability consultant at Faithful + Gould.
Source
Send your interesting office views to nargess@me.com.