Firm back in black after two years of woe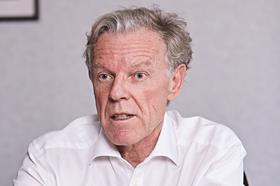 Vinci returned to the black last year after racking up losses of close to £300m in the previous two years – mainly because of its scheme to extend the tram network in Nottingham.
The firm's UK arm saw profits jump to £11.1m in the year to December 2016 following the £68m loss it turned in back in 2015. The year before losses hit £217m.
Its scheme to extend the Nottingham tram was signed in 2011 and the deal was one of a number which prompted the firm's Paris head office to parachute Bruno Dupety (pictured) into the chief executive's post back in October 2014.
The contractor, which includes the Taylor Woodrow civils arm as well as building, development and FM, said turnover was broadly flat at £949m, compared to 2015's £935m.
Vinci still has to draw a line under the tram project which Dupety told Building last month he hoped to settle later this year. The scheme for the city council opened in 2015.
Dupety added: "We are starting the year with a total order book worth £1.047bn and have 75% of our 2017 budget secured. We will continue to work on improving efficiency, delivery and productivity of our operations throughout the year. We are confident the net profit will be at least at the same level in 2017."
Vinci is working on a number of high-profile schemes including a mixed-use scheme at New Covent Garden market as part of the wider Nine Elms development in south London, a new Crossrail station at Whitechapel as well as looking after the London Stadium at Stratford.
Last month, Dupety also told Building that it was looking at bringing some of the trades it uses in the UK in-house in order to give it more control over jobs.