Problems on Nottingham tram project contributed to firm's major pre-tax loss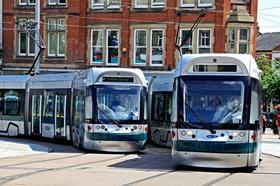 Vinci's UK division has suffered a colossal £217m pre-tax loss for 2014 due to problem contracts in its building and civils divisions.
In its results for the year ending 31 December 2014, the firm said its work on the £570m Nottingham tram project experienced "major issues", leading to an operating loss of £154m in its civils division.
In accounts filed at Companies House, Vinci said it will enter "complex discussions" with client Nottingham council and joint venture partner Alstom to reach a financial settlement on the contract.
It also said "a number of contracts have encountered issues" in its building division, which has "resulted in ongoing negotiations on a number of contracts," causing the division to record a £32m loss.
Revenue at the firm for 2014 stood at £1.02bn, down a fifth from £1.26bn the previous year.
Vinci said its building division will continue to pursue opportunities in its traditional health and education sectors, with its civils division continuing to focus its operations on the rail, road and energy markets.
In November Building revealed that delays on the Nottingham project were the main reason for "significant losses" at Vinci's UK construction business for the first half of 2014, with a spokesperson for the firm confirming the project was "mainly" responsible for the losses in the six months to June 2014.
The Nottingham tram scheme was the second major Vinci project that month which emerged as facing delays.
As Building reported in earlier November, Vinci's £179m upgrade to one of Gatwick Airport's piers – the biggest construction project at the airport – had been subject to "project delays and commercial challenge".
In February this year, France-based Vinci's global construction business revealed a 44% fall in construction profit for the 2014 calendar year, down from €680m (£505m) in 2013 to €380m (£282m) in 2014, with revenue falling 8.1% from €16.8bn (£12.5bn) in 2013 to €15.4bn (£11.4bn) last year.
It blamed the drop partly on "UK difficulties" and a deteriorating French market.