Falling object narrowly misses cyclist in central London on Friday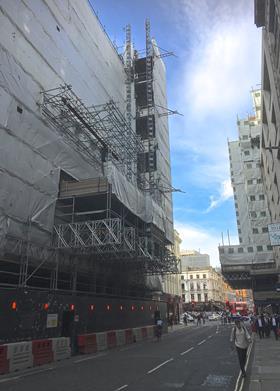 An investigation is under way after a large piece of metal fell from the top of scaffolding in the City of London during the morning rush hour last Friday, landing in the street and narrowly missing a cyclist.
The site, 77 Coleman on Moorgate Street (pictured), near the junction with London Wall, is being revamped into office and retail space by Volker Fitzpatrick for the UK arm of Japanese developer Kajima.
City workers watched as the large L-shaped piece of metal, which was about the size of an old-fashioned typewriter, plunged about 30ft through the scaffolding before falling onto the northbound carriageway of Moorgate.
The cyclist who narrowly avoided being hit by the object picked it up and set it down on one of the site's road barriers, before riding off.
Workmen from the site were seen scanning the scaffolding after the near-miss, which took place at about 8.30am, to see where the piece of metal had fallen from.
In a statement, Volker Fitzpatrick said: "Earlier today a piece of metal from our site on Coleman Street fell onto the road below. Fortunately, the incident did not cause any injuries or damage.
"Our team immediately began a thorough investigation and will of course follow all required health and safety reporting procedures and recommendations, to ensure that this does not happen again."
The 77 Coleman scheme is due to be finished in the first quarter of next year.