Scheme to replace notoriously dangerous level crossing and unlock land for 1,750 homes
VolkerFitzpatrick has landed a £26m job to build a delayed bridge scheme for Guildford council.
The Aecom-designed road link in Ash, Surrey, is part of a council plan to unlock land for 1,750 new homes.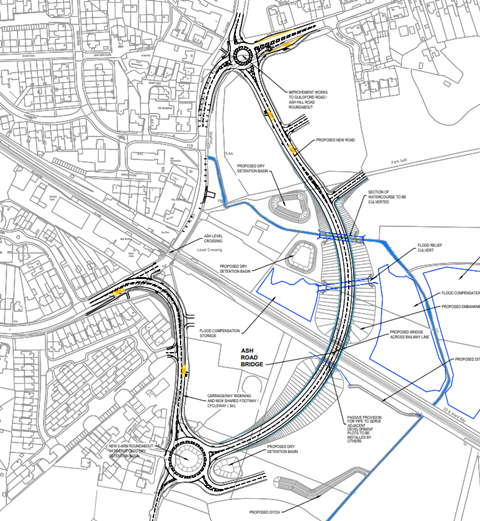 It will replace a level crossing outside Ash railway station on the A323 road which currently holds up traffic on the main route between the town and nearby Guildford.
The level crossing is also known to be among the most dangerous in the region, according to the council's planning officer.
Images in planning documents show plans for a new road looping through fields on large earth banks with a bridge in the middle crossing the railway line.
The road will connect at both ends to a pair of new roundabouts, with several proposed smaller roads linking off the route to new land for housing. The scheme also includes associated pedestrian and cycle paths.
VolkerFitzpatrick is currently building a major section of HS2 including the Colne Valley viaduct and Chiltern tunnels as part of the Align joint venture with Bouygues and Sir Robert McAlpine.