Developers behind £500m tower plan temporary solution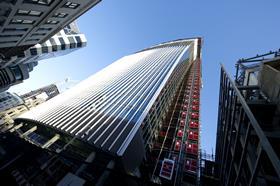 The developers behind the under-construction Walkie Talkie skyscraper in London will erect a temporary scaffold screen to protect pedestrians, cars and shops on a street below from powerful rays of reflected sun cast down from its facade.
The phenomenon has caused a media frenzy this week, with the reflected rays variously blamed for melting parts of cars, shoes, shop tiles and bicycle seats, while one barber shop claimed the rays had set fire to its doormat.
Yesterday a reporter from business newspaper City AM even managed to fry an egg in the heat spot on Eastcheap.
Land Securities and Canary Wharf, the developers behind the 37-storey tower, said the screen will be erected at street level.
In a joint statement they said: "Following approval from the City of London, we will be erecting a temporary scaffold screen at street level on Eastcheap within the next 24 hours. This solution should minimise the impact on the local area over the next two to three weeks, after which time the phenomenon is expected to have disappeared.
"We are also continuing to evaluate longer-term solutions to ensure this issue does not recur in future."