Skanska wins school contractor of the year and Atkins wins consultant of the year in BCSE's annual awards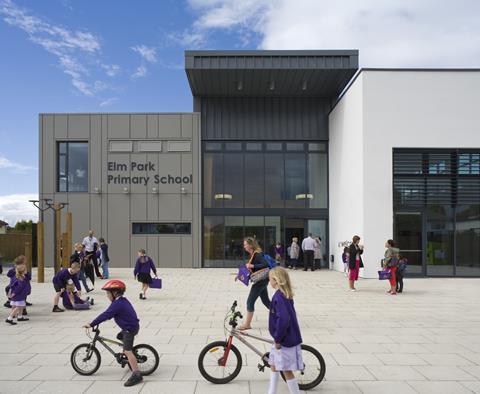 Architect Walters and Cohen has won the 2012 Jonathan Ibikunle school architect of the year award at the British Council for School Environment's (BCSE) annual awards event.
The firm also took first prize in three other categories for its work on schools in London and Bristol, including the Elm Park Primary School in Hornchurch, London (pictured), and was praised for its "thoughtful, high quality work" and "joyful, uplifting designs".
Skanska won schools contractor of the year in the awards and Atkins won consultant of the year. The London Borough of Tower Hamlets won the best local authority award.
The panel considered a range of criteria, including the physical environment, resources and materials used, how the design supported the ethos and culture of the school, as well as teaching and learning, and the use of ICT.
Commenting on Walters and Cohen's award, Nusrat Faizullah, chief executive of the BCSE, said: "Walters and Cohen has consistently married form and function in its work on learning environments, leading to schools which look fantastic but also do the job required - providing a building that supports and facilitates our teachers and children now, as well as those of the future.
"We face a myriad of challenges in the current economic environment. But this year's awards show we have some brilliant architects designing truly great schools, who can bring their creativity and skill to bear on the challenges ahead."
Winners of the BCSE's awards for 2012 are:
Designing Britain award - The Jonathan Ibikunle school architect of the year award: Walters and Cohen
Building Britain award - school contractor of the year: Skanska
Delivering Education award - The Tom Cooper local authority of the year award: London Borough of Tower Hamlets
Supporting Excellence award - consultant of the year: Atkins
Excellence in design - new build (primary): Walters and Cohen - for Elm Park School and Hylands School (joint first prize)
Excellence in design - new build (secondary): Aedas - Writhlington School
Excellence in design - large projects (secondary): Walters and Cohen - Colston's Girls' School
Excellence in design - small projects (primary): DLA Architects - Orleans Infant & Nursery School
Excellence in design - small projects (secondary): Hopkins Architects Partnership LLP - Henrietta Barnett School
Excellence in design - independent school: ORMS Architecture Design - Sherborne Music School
Excellence in design - special educational needs: LSI Architects - Harpley PRU
Test of Time award: Arup Associates/Haverstock Associates LLP - Druk White Lotus School/Whitecross High School (joint first prize)