Old Oak and Park Royal scheme among five recipients of government money
Waste heat from data centres will be used to keep thousands of new homes warm after a fresh cash injection from government.
Five projects will receive a share of nearly £65m to create new heat networks.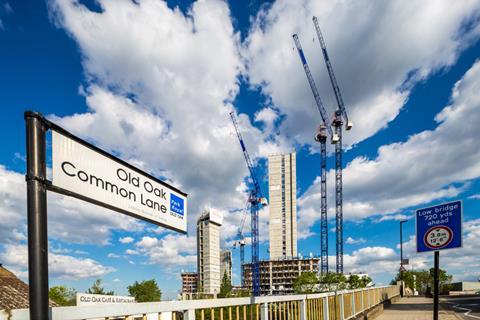 More than half of the money (£35m) will go towards the first heat recycling scheme at the Old Oak and Park Royal development in west London.
The heat network there will connect 10,000 homes and 250,000 sq m of commercial space across the boroughs of Hammersmith and Fulham, Brent and Ealing.
Four other green heating projects in London, Watford, Suffolk and Lancaster have also been allocated grants from the Green Heat Network Fund.
One of these projects will see Lancaster University fully decarbonise its campus with the help of a £21m investment in a large heat pump powered by a new solar farm and an existing win turbine.
Energy security secretary Claire Coutinho said: "We are investing in the technologies of the future so that families across the country will now be able to warm their homes with low-carbon, recycled heat - while creating thousands of new skilled jobs."
Full list of newly funded projects
Old Oak Park Royal Development Corporation will receive £36 million to construct a heat network using waste heat from data centres
A new heat pump housing estate in Chilton Woods, Suffolk will see nearly 1,000 homes and a primary school provided with low carbon heating. The project, which has received £745,000, will also include a thermal store, meaning any excess energy generated from the system will be fed into the wider National Grid
The London Borough of Brent will receive nearly £5.2 million for the South Kilburn District Heat Network, supplying heat using air source heat pumps combined with back up gas boilers to 34 sites via a 2.79km pipe network, connecting 2,900 customers
Watford Community Housing (WCH), a not-for-profit housing association with approximately 5,700 homes, will receive £1.8 million of funding to replace an old gas district heating system with ground source and air source heat pumps. This will provide heat to 252 apartments across 6 blocks
Lancaster University will receive more than £21 million to fully decarbonise its campus with a low carbon energy centre