Report criticises design faults at new £200m HMP Oakwood 'super prison'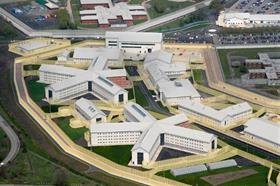 A £200m newly-built prison has been slammed by the prisons watchdog after its inspection of the facility uncovered serious design faults.
The report by the Independent Monitoring Board into HMP Oakwood, a privately-run prison near Wolverhampton, identified a number of serious design faults.
The facility, run by G4S, is the UK's newest privately-run jail.
It was designed by architect Pick Everard for the Ministry of Justice (MoJ), with Kier the main contractor and Faithful + Gould the project manager.
The report said building work was still ongoing at the prison when it opened in April 2012, with cells still to be fitted out, and that contractors had been "continually in the prison dealing with deficiencies and are not expected to complete remedial work until later in 2013".
The report said "a number of the issues" identified with the design and layout of the prison were the consequence of "cost-cutting initiatives being implemented after the original design specification was agreed".
The report was particularly critical of the design of the main hub areas for the prison staff, which it said "have no natural light [and] limited air circulation or air conditioning". It said this meant the areas became "very stuffy".
"Access to staff toilets is directly from the central hub area and [is] not conducive to the existing poor air quality within the hub office," the report added.
It said stairwells were not adequately covered by CCTV, which meant they had become locations "where incidents are occurring".
It said other problems included the "metal design of the buildings", which meant the radio systems did not work properly throughout the facility with "many blackspots".
It said to address this failing had required additional work costing £400,000.
It also highlighted that the prison had only one outer fence, rather than two, which meant accomplices were able to throw mobile phones, drugs and other items easily into the prison grounds. These were then retrieved by prisoners who had discovered that setting off fire alarms triggered the windows in the prison blocks to open, enabling them to "go fishing" for the contraband.
It also highlighted the poor quality of furniture in the prison, made of "light fibreboard", which it said was "easy to break up when a prisoner is angry". "Fragmented furniture has been used as a weapon against staff," the report said.
Pick Everard, Faithful + Gould and Kier declined to comment, referring all enquiries to the MoJ.
An MoJ spokesperson said: "The MoJ was responsible for the original building design and imposed no 'cost-cutting' measures after the final contract award."