Scheme to overhaul buildings as part of Palace of Westminster revamp was thought to be worth £500m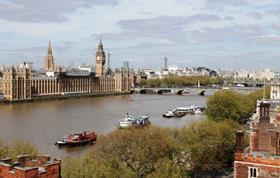 Wates' high-profile contract to upgrade a number of buildings set to contain MPs' offices in Westminster known as the Northern Estate Programme has been confirmed to be worth £650m.
In a contract award notice published on the Official Journal late last week, Wates was officially confirmed as the main contractor on the job, which was originally thought to be worth £500m.
Earlier this month Building revealed Wates had scooped the high-profile job earlier this month, beating out bids from Balfour Beatty and Sir Robert McAlpine.
The main contractor role involves restoring and upgrading several grade I and grade II-listed buildings while renovation work is carried out on the Palace of Westminster.
The work, which is set to begin in earnest in 2020, is expected to centre on refurbishment although some new build will be involved.
Building also revealed that Lendlease had been appointed to carry out work on the former Department of Health headquarters, Richmond House, to turn it into a debating chamber and associated offices.
This job is part of the Northern Estate work but has not been includes in Wates' package.
The DoH moved out of the 1980s building last year and in January MPs voted for the House of Commons to move to Richmond House in 2025 for an estimated six years. Peers are due to move into the QEII Centre in Westminster.
Consultants working on the Northern Estate include lead designer BDP while WSP and Gleeds are carrying out the programme, project and cost management role.