Firm beats Balfour Beatty and Sir Robert McAlpine to restore buildings across Westminster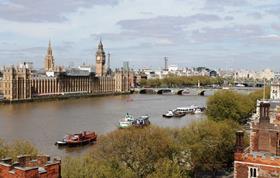 Wates has beaten Sir Robert McAlpine and Balfour Beatty to a high-profile £500m contract to upgrade a number of buildings set to contain MPs' offices in Westminster known as the Northern Estate Programme.
The blue riband deal is a coup for the £1.6bn turnover firm which will carry out the work for client Parliament's Strategic Estates.
The main contractor role involves restoring and upgrading several grade I and grade II-listed buildings while renovation work is carried out on the Palace of Westminster.
The size of the win represents a significant step-up for Wates, which is in line for public sector contracts in the £10m-£50m bracket under the Scape construction framework.
The work, which is set to begin in earnest in 2020, is expected to centre on refurbishment although some new build will be involved.
The Northern Estate scheme includes the grade-I listed Norman Shaw North and grade-II listed Norman Shaw South buildings – both over 100 years old – and 1 Derby Gate and 1 Parliament Street – two grade-II listed buildings from the 1880s. Together around 15,300m2 of office space will be refurbished.
Most of the buildings have not been refurbished in over 40 years and so essential works are now needed to improve fire safety, building performance and M&E services.
Building has already revealed that Lendlease has been appointed to carry out work on the former Department of Health headquarters, Richmond House, to turn it into a debating chamber and associated offices.
This job is part of the Northern Estate work but has not been includes in Wates' package.
The DoH moved out of the 1980s building last year and in January MPs voted for the House of Commons to move to Richmond House in 2025 for an estimated six years. Peers are due to move into the QEII Centre in Westminster.
Consultants working on the Northern Estate include lead designer BDP while WSP and Gleeds are carrying out the programme, project and cost management role.