Deals would follow swoop for Shepherd's M&E and FM arms last September as 2015 turnover nears £1.3bn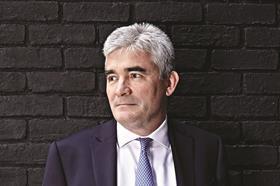 Wates has said it will look at more deals similar to the swoop it made on Shepherd last year as it presses on with its plan to become a £2bn turnover contractor.
The firm picked up Shepherd's M&E and FM arms last September along with a number of contracts from its construction business, adding up to £300m in revenue.
Wates chief executive Andrew Davies (pictured) told Building turnover this year will hit £1.5bn and said he was "open-minded to possibilities" of further deals. He added: "We did need to grow. You get better recovery [of profit] when you grow and that's what's been happening."
Turnover in 2015 increased 21% to £1.27bn, up from £1.05bn the previous year, while the firm's order book leapt a third to £4bn, up from £3bn.
But Davies said the priority this year was to bed in the Shepherd deals, which have seen it spend £1.8m on integration costs.
You get better recovery of profit when you grow and that's what's been happening

Andrew Davies, Wates
Despite the bill, the firm posted a 26% increase in pre-tax profit to £30.3m, up from £24.1m.
Davies said the Shepherd buys had given it a "formidably strong business in the North" to complement the firm's existing strength in southern England, and "capability in the M&E space".
He added: "Market conditions are still very challenging. Our strategy of disciplined growth has paid dividends."
Wates also spent £750,000 adopting BIM last year and Davies said it will plough a similar figure into the initiative this year.
This week, any firm wanting to be considered for central government construction work had to be BIM level 2 compliant. Davies added: "We're investing a lot of money [in BIM]. In truth it's going to take time but it will get traction."
He argued BIM was worth the cost: "It enables you to win projects … and [ultimately] it should save money."
Wates improved its cash position, with £127.4m at the bank, up from £87.4m.