Firm says easy-to-build temporary classrooms will help tackle growing crisis
Wates is offering to come up with Nightingale-style plans to solve the growing schools crisis which has seen millions of children told their schools won't reopen until September – at the earliest.
The issue of children locked out of school has shot to the top of the political agenda as the scale of the problem unfurls with Ofsted head Amanda Spielman expressing disappointment primary schools will not fully reopen before the end of the current summer term and children's commissioner Anne Longfield saying "children are in danger of being forgotten in this lifting of lockdown".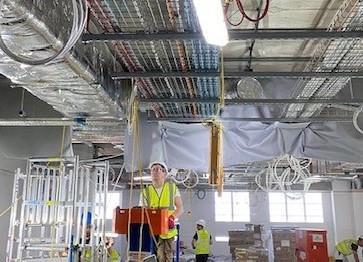 Wates' group strategy director and education lead Steve Beechey told Building the firm has contacted the Department for Education (DfE) about coming up with Nightingale Hospital-style plans to get children back to school.
"We've had conversations with them," he said. "What we have to do is solve the crisis and get [children] back into school."
He added: "The industry is ready to take on the challenge. The skills learnt from the Nightingales is really helpful. It shows we can do it."
The firm, which is currently working on around 15 schools jobs for the DfE, recently took five weeks to convert redundant office space at the Royal London Hospital into nearly 180 beds for covid-19 patients.
Beechey said it would use its off-site schools system called ADAPT, which it has used on 50 sites in the past eight years, to help build the extra space schools now need because of ongoing social distancing protocols.
He added that converting council-owned property was the most straightforward response to the plan and said if work was given the green light in the next few weeks, extra space could be available for the start of the new school year.
He said: "We don't even know if there is going to be a [covid-19] vaccine so we have to do something. Education is so fundamental."
A report for the National Foundation for Educational Research this week said four in 10 pupils in England are not in regular contact with their teachers while a study for the University College London Institute of Education estimated that two million pupils in the UK – around one in five – had done no schoolwork or managed less than an hour a day since schools were shut on 20 March.
In a statement, the DfE said: "We are not working with Wates to extend the school estate, beyond the plans that had already been approved prior to covid. Currently there are no plans for new school estates beyond what is needed to deal with population increase and migration. Every year the department makes sure there is enough capacity in the school estate, however, this is separate to our work towards all pupils returning to school in September."
It added that it was "working towards bringing all children and young people back to school in September".