UKCG chairman claims 'commitment is absolutely there from both sides to make this work'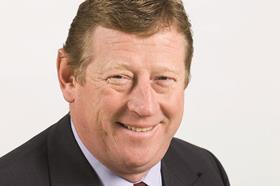 The planned merger between the UK Contractors Group and the National Specialists Contractors Association is on course and could happen as soon as June.
The two bodies, which represent main contractors and specialist contractors respectively, announced they were in discussions over a possible merger in January, but have not previously confirmed if the talks have been successful.
According to UK Contractors Group (UKCG) chairman James Wates (pictured), who is also chairman of the Wates Group and skills body the CITB, the two bodies could agree on "80%" of issues. This is despite allegations from specialists that main contractors were responsible for late payments and punitive contract terms during the recession, causing tension between the two sections of the industry.
In an exclusive conversation with Building at the Ecobuild conference, Wates said the merger would provide a "step change in the way the industry presents itself". Asked if the merger will go ahead, Wates said: "Yes, absolutely. The commitment is absolutely there from both sides to make this work."
Asked about timing, Wates said the UKCG's annual general meeting could be used to ratify the plan.
He said: "It's got to be properly thought through; the due diligence has got to be done in terms of getting the plan together of how we're going to integrate. The UKCG AGM is at the end of June, so that's a natural point for moving things forward."
Wates added that the merger was being considered both in order to allow the industry to present itself with a more unified voice, and to help the actual integration of the supply chain.
"There will be the naysayers as there always are in any change. The feedback that I've had so far has been nothing but positive.
"We [the industry] have to be much more integrated. As we come through each cycle we get better at it, but then we get into a recessionary cycle and there is a natural drift back to the comfort zone of old-fashioned contracting. I don't think looking forward that's sustainable."