Firm takes 54 days on average to settle its bills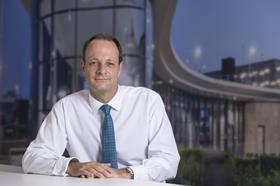 Kier's chief executive has said it often pays its bills before it is paid by its clients.
The firm is now the country's second biggest contractor following the collapse of Carillion earlier this year and over the summer was revealed to be taking an average of 54 days to settle its invoices.
The government figures put it alongside the country's biggest contractor, Balfour Beatty, in the slow payers league but Kier chief Haydn Mursell told Building: "Quite simply, we can only pay the supply chain when the client pays us, because otherwise we don't have the funds from the client to settle with the supply chain.
"At the moment our average payment terms to our supply chain is 54 days. [Our] payment is quicker on average than the client pays us. So we're already paying our supply chain quicker than our clients pay us – so we're doing our bit for the industry in that regard."
Mursell (pictured) also defended the firm's use of the controversial supply chain finance initiative – which sees suppliers pay a charge in order to be paid after just 21 days rather than the firm's normal 60 days terms.
The initiative was made notorious by Carillion and Mursell admitted: "Supply chain financing has received some bad headlines after the last 12-18 months."
But he said the initaitive had been oversubscribed and added: "We use it very differently to Carillion and others in the sector. Ours is optional for our supply chain, they can use it if they wish. The charge they pay is the charge the bank levies on us."
He said the firm's typical project value is around £8m and its supply chain for jobs that size have much smaller turnovers than big subcontractors. "Because they're paid after 21 days or whenever suits their own particular payroll demands [that] is very, very attractive to them."
The firm put out an improved set of results last week with pre-tax profit up 9% to £137m. It has also pledged to cut its £375m debt pile to £250m by 2021.