Senior manager the first Rydon employee to give evidence at inquiry into 2017 fire
Rydon's senior manager on the Grenfell recladding job admitted the firm relied on specialist subcontractors and designers to fulfil its contractual obligation to ensure the project was safe.
Simon Lawrence also said Rydon lacked the in-house expertise to check the work of these sub-contractors and relied on third parties for this as well.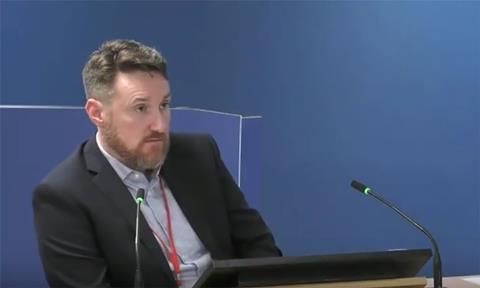 Ultimately it was relying on the local authority's building control department to sign off the work, he said.
In evidence to the Grenfell Inquiry, Lawrence also admitted he did not know cavity barriers were needed around windows or that insulation on buildings above 18m had to be of "limited combustibility" – a term he said he had not fully understood at the time.
Lawrence, who became contract manager on the Grenfell refurbishment in spring 2014 for Rydon, the main contractor, made the admissions during his first day of evidence to the inquiry which restarted last week. He left Rydon in 2015 after more than a decade at the firm.
Lawrence, the first Rydon employee to give evidence, told the inquiry his responsibility was to deliver the project on time and on budget and also in line with the contract in terms of regulatory compliance.
Inquiry barrister Richard Millett QC took him through the contract, employer's requirements and other regulatory and guidance documents at length. Lawrence agreed Rydon had a "direct design responsibility" to ensure all the work complied with relevant specifications, codes of practice and statutory requirements of the Building Regulations 2010 – whether that work was carried out by its own staff or its subcontractors.
Asked whether Rydon had taken any steps to ensure its staff understood the regulations and requirements that it had promised the project would comply with, he said: "We would all understand that in general terms, that there are Building Regulations that need to be complied with, but we wouldn't know every sub-section."
Asked about his level of knowledge of product performance in the context of value engineering, he said: "We would have known the overview, what the product did – for example what rainscreen cladding did – but not the in-depth detail of all the technical specifications behind it."
He was asked about several guidance documents he had not seen that relate to high-rise cladding projects, including the Building Control Alliance's "Use of Combustible Cladding Materials on Residential Buildings".
Millett asked him: "Can you account for being contract manager on the Grenfell Tower refurbishment which involved a major overclad of a high-rise residential building and yet not be familiar with this document?"
Lawrence said: "There are a lot of technical guidance and documents out there," pointing out elsewhere in his evidence that there are "hundreds of documents within a contract" but that he was familiar with the general principles of not "building a building that's, dare I say it, unsafe".
He said Rydon relied on its specialist subcontractors to be aware of such documents.
Millett asked: "How can you check whether they had used industry guidance such as this if you weren't aware of it yourself?"
Lawrence replied: "First, employing the right contractors and/or designers and ultimately, when it comes to compliance, we are looking for the building to be signed off, shall we say, for regulations by building control."
Millett asked what processes Rydon had to ensure materials used on their projects would not "readily support combustion". Lawrence replied: "It would be using a competent design team and competent specialist contractors, backed up by building control."
Turning to requirements for fire stops, Millett asked: "Were you at the time relying on others – specialist sub-contractors and design teams – to ensure that the design and construction complied with these specifications?" Lawrence replied: "Yes."
Turning to cladding and quoting BRE guidance on fire risks, Millett asked: "Were there any processes in place at Rydon for ensuring the system wasn't a fire risk after completion?"
Lawrence said: "Yes, because we employed specialist designers that should have been designing and installing to the regs. It was then checked by not only an independent clerk of works but it was also checked by building control." He agreed they relied on others but added that Rydon's site managers would also check the building was built in accordance with the drawings.
Asked who would check, for example, whether cladding subcontractor Harley Facades' work complied with Approved Document B on fire safety, Lawrence said: "Myself and the site team would ensure information was given to third parties who could check that compliance. That's how we would manage it."
Millett clarified: "Other people checked compliance, not Rydon?" Lawrence responded: "We employed third parties, yes, that were able to do that."
He was asked: "Does that mean when Rydon was purporting to discharge its obligations to supervision which it owed to its client, it wasn't actually supervising itself it was employing other people to perform its supervision for it?"
Lawrence said: "It would depend on what part of the works we're talking about but by employing third-party specialists we would supervise them by making sure they carried their work out in programme and quality etc, but we would not be able to check to the technical detail, if that's what you mean." They would also have meetings to check the build was progressing, he added.
When Millett's questioning turned to Part B of the Building Regs and Approved Document B (ADB), Lawrence agreed with his suggestion that there was no "ADB bod in Rydon on this project".
He could not recall whether he had read ADB but said: "As site management I would have regarded them as reference documents [to be referred to] as and when if we needed to investigate further".
He added: "We wouldn't as a site team be able to interpret these documents without help from others."
Millett established that Rydon did not have a matrix of responsibility for the Grenfell project. He asked: "How were you going to ensure each sub-contractor understood its responsibilities so there were no gaps in scope or deliverables?"
Lawrence replied: "The true answer is I don't know. It would have been good to have a design responsibility matrix."
Elsewhere in his evidence, Lawrence said he wasn't aware of the fire risks of using aluminium cladding, did not know that polyethylene was combustible or that ACM panels were also available with fire-retardant cores that were less combustible. The original plan was to use zinc but this was later switched to cheaper aluminium.
Lawrence also admitted: "I wouldn't have known that term, limited combustibility". He couldn't say whether anyone at Rydon would have been familiar with it.
He also said he had not heard of a number of residential high-rise fires in the UK, Melbourne and UAE spanning 1991-2013. He said he did know about the fatal fire at Lakanal House in south London in 2009 and possibly that external spread of fire was a factor, but not about the involvement of cladding panels. Rydon did not, as far as he knew, have a training programme on such matters for its high-rise teams.
Later Millett asked if Rydon's business model – as a main contractor whose works were carried out by subcontractors – was to provide management. Lawrence agreed.
In January's opening submissions, Rydon's barrister Marcus Taverner QC said the fact that it delegated tasks was not the same as ducking its responsibility.
The inquiry continues.