School projects to use project bank accounts to pay contractors in order to test the payment system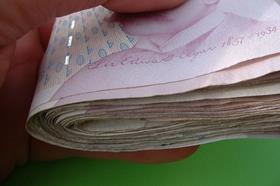 The Welsh government is to pilot the use of project bank accounts on a batch of six school construction projects in the north of Wales.
Flintshire, Swansea and Torfaen councils will also use the project bank accounts on a selection of local school projects.
Project bank accounts are designed to ease the problems of cash flow in the construction industry, which has been an increasingly serious issue in recent years, causing multiple contractors to enter administration.
Last year a parliamentary committee identified construction as having one of the worst cultures of late payment in the UK.
The accounts work by allowing all contractors and sub-contractors on a project to be paid from a central pot, funded by the client, ensuring payment does not need to spend time trickling down the supply chain.
Jane Hunt, Welsh Assembly minister for finance, said: "Access to finance and cash flow are vital to smaller sub-contractors and it is only fair that they receive prompt payment in accordance with contract performance."
The Welsh government committed to use project bank accounts as part of its Construction Procurement Strategy published last year.
The projects will be monitored to inform further Welsh government policy development in this area.
Rudi Klein, chief executive of the Specialist Engineering Contractors' Group who has campaigned for greater use of project bank accounts said he was "delighted" that the Welsh government was joining the governments in Scotland and Northern Ireland in using the system.
He said: "Project bank accounts ensure that small businesses will get paid and will not be at risk of insolvencies higher up the chain."