Losses on job now approaching £150m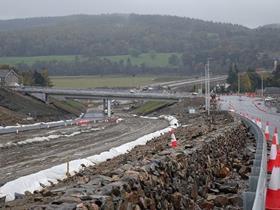 Galliford Try has said the cost to complete the road it is building around Aberdeen has gone up by a further £20m taking losses on the job to more than £140m.
In a trading update, the firm said completion of the final section was now due in December after remedial work on the Don bridge, near the city's airport, was hit by weather problems and complexities over carrying out repairs.
Work on the bridge – which involves realigning stretching ducts – was due to finish this month.
But in its update Galliford Try said: "As a result of higher than anticipated direct costs, and the further delay to completion, our estimate of the final costs to complete the contract has increased by approximately £20m."
In September it announced a £25m hit for the second half of its financial year and the boss of its construction arm Bill Hocking said the "vast majority of the road is complete" with 80% of it opening by the end of that month.
He added: "The bridge will be finished in late autumn. After that there is no practical impediment to opening the road."
The firm has now lost £143m on the scheme which was originally let as a £533m lump sum, fixed-price deal to a team that also included Balfour Beatty and Carillion, whose implosion has cost Galliford Try £25m of the £143m figure.
Cenkos analyst Kevin Cammack said: "[The road] is proving to be an almighty construction migraine that simply won't go away. Hopefully the latest expensive dose of tablets will get the job done."
But the firm said it was in "constructive discussions" with client Transport Scotland about recovering money on the scheme which it said in this afternoon's update was "significant".
Hocking has previously said the firm will not bid for any more lump sum, fixed-priced deals and that contracts it has taken on in the last couple of years have been hitting margins of 2%.
In its update, Galliford Try said the underlying construction was trading in line with expectations while its Linden Homes business was making "good progress" against strategic targets.