Mace and HS2 sitting down for talks this week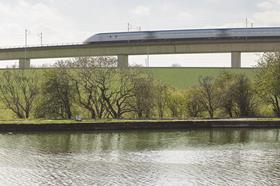 A planned meeting between Mace and HS2 over the decision to award a contract on the rail link to CH2M is finally expected to take place this week amid increased scrutiny on the deal from officials in Whitehall.
According to a report in the Financial Times, HS2 Ltd is coming under pressure to reverse its decision to award the £170m contract to the US firm.
"CH2M has been told that they either stand down or they will be kicked off," a source close to the firm told the paper.
A CH2M spokesperson said it was speaking to HS2 and that "discussions continue between both parties".
Last week HS2 convened a board meeting to discuss the issue which erupted last month when CH2M was appointed to the development partner role on the second phase of the scheme.
This week's meeting has already been postponed a number of times and comes four weeks after the pair first met to discuss the award.
The news comes as a source told Building that officials in Whitehall were growing increasingly alarmed the impasse between HS2 and Mace had not yet been sorted out.
"Contracts to do with procurement like this should not be appearing in the press," the source said. "It's causing some issues at the transport department. There's a feeling HS2 hasn't been brilliant at communicating the benefits of HS2 and now we've got this public row. It just reinforces the view it's not being handled well."
Mace is concerned that its bid was compromised because of the recent decision by HS2 Ltd, which is responsible for building the network, to appoint CH2M European managing director Mark Thurston as its new chief executive.
Thurston joined earlier this month and replaces interim Roy Hill, who was himself seconded to the client from CH2M and will return to the engineer next week.
A Mace spokesperson said it had been told transport secretary Chris Grayling was now getting involved: "We are pleased to hear the reports that the Secretary of State is now personally looking into the concerns we have raised around a number of conflicts of interest during the procurement process.
"Parliament and the government both have a duty to ensure that British taxpayers' money is being well spent and proper process is being followed."
Mace has hired £650 an hour QC Michael Bowsher in its battle with HS2. Bowsher, who is in fact believed to be being paid close to £700 an hour, was brought in just days after CH2M was named preferred bidder for the contract known as Phase 2B.
A HS2 spokesperson said: "We're in discussion with one of the bidders and will make a statement in due course."