But contractors' sustainability report shows progress in cutting its use of natural resources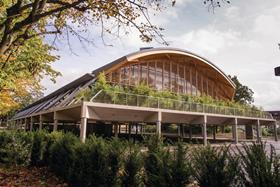 A fall in construction prices last year held back contractor Willmott Dixon's efforts to reduce its carbon emissions rate, the firm has said.
The firm's annual sustainability report, published this month, reported that in 2013 it emitted 18.6 tonnes of carbon for every £1m of turnover, which represented a 1.4% increase on 2010 levels, when it first started measuring its emissions.
Although the firm's carbon emissions have fallen 6% from a peak in 2012, the firm said that falling tender prices meant it was forced to deliver more buildings for every £1m of revenue, making it more difficult to reduce emissions levels to 2010 levels or below.
Rob Lambe, managing director of Willmott Dixon Re-Thinking team, who oversees the firm's sustainability work, said: "Over the last few years the market has suppressed the whole supply chain. There has been probably something like a 10% reduction in the cost of construction compared with where it was 10 years ago.
"Effectively we are doing more work for the same amount of money and that is generating more activity and emissions."
He said it was "disappointing" not to see better progress on reducing emissions, but it was "reassuring in a perverse way" that he saw other companies experiencing the same problem.
We are doing more work for the same amount of money and that is generating more emissions

Rob Lambe, Willmott Dixon
Despite these difficulties, Willmott Dixon has still set an ambitious target for 2014, pledging to reduce its emissions level to 15.6tonnes/£m, which would represent a 15% drop on 2010 levels.
Lambe said he was "optimistic" that emissions rates would decline over the next five years as construction prices rose.
Willmott Dixon's total emissions rose 5% between 2010 and 2013 from 18,150 tonnes CO2 to 19,004 tonnes CO2.
However, the contractor made progress on its efforts to use natural resources. It reduced its water usage to 9.7m3 per £100,000 of revenue in 2013, down from 11.7m3 in 2010, although this was a slight increase in the 9.6m3 it reported using in 2012.
It has also made steady progress in its efforts to increase the amount of construction waste diverted from landfill.
In 2013 it diverted 93% of waste from landfill, up from 91% in 2010 but down from 95% in 2012. The firm said it would divert 100% of waste from landfill in 2014.
Willmott Dixon also increased the number of apprentices it employed from 64 in 2012 to 83 in 2013, a move designed to meet its social sustainability goals.
It did this largely by taking on 20 apprentices that were shared with other organisations.
The report said: "Creating apprenticeships in the capital works side of our business has always been challenging because of the shorter duration of our construction projects.
"So in 2013 we started sharing apprentices with other organisations, and we are now working with [skills body] the CITB to increase the number of shared apprenticeships we can offer."