Willmott Dixon reports rising profit despite 'legacy' schemes taking their toll in 2014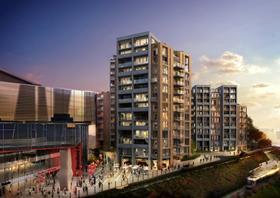 Willmott Dixon group chief executive Rick Willmott has described 2014 as an "annus horribilis" for the firm's residential housing business, despite rising turnover and profit at the group as whole.
Writing in the firm's annual report, Willmott admitted the business had "struggled to close out what have, industry wide, become known as "legacy" projects" as the firm and its suppliers "battled against rampant cost inflation and resource shortages".
However, Willmott Dixon's overall results for the year ended 31 December 2014, saw pre-tax profit rising by £10.1m to £26.1m and turnover increasing 24% to £1.26bn from £1.02bn for 2013.
Turnover in public and commercial construction rose by £117m to £753m for the year as the firm "further strengthened" its work in the universities sector with large projects for Bournemouth, West London and Birmingham. The group also became development partner for Brentford FC for a new 20,000 seat stadium and nearly 1,000 new homes. The group said that as of March 2015 they had secured 92% of the group's budgeted work for 2015 and a secured order book valued at £1.4bn.
The problems in residential construction came as the division saw its turnover increase from £197m for 2013 to £279m in 2014. Willmott Dixon said the legacy projects, which it did not name, had been secured at extremely low prices just before the residential market overheated in the south east. These projects Willmott continued "experienced unrecoverable double digit cost escalation, supply chain failure and, as a consequence, lost time".
Colin Enticknap, chairman at Willmott Dixon, said the situation created "severe inflationary pressure and resource shortages". He added that resolving these issues had taken far longer than had been hoped.
Public and commercial construction continued to provide a safe bedrock for the group with turnover up £117m to £753m for the year
The group's interior fit out company grew by £24m to £74m and has been appointed to the £20m fit-out of the Design Museum.