Designs drawn up by architect Sheppard Robson for Wimbledon FC and developer Galliard Homes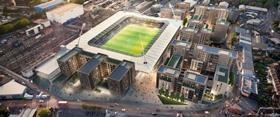 Sheppard Robson has submitted plans to demolish one of the last greyhound tracks in London and replace it with a football stadium and 600 homes.
The scheme, which is being billed as a chance to bring AFC Wimbledon "back home", is proving contentious with dog racing supporters backing a rival proposal.
Led by a former chairman of the Irish Greyhound Board, Paschal Taggart, these £100 million plans would rebuild the greyhound stadium to a design by Belfast's Hamilton Architects and add around 400 flats.
A planning application is not thought to be imminent but Taggart said: "We intend for this stadium to be on a par with Royal Ascot. We will also include a world-class squash centre, gymnasium, dance studio and medical centre."
His supporters commissioned a technical study which concluded that the site was not suitable for a football stadium and could lead to flooding.
Plough Lane, the name of the road where the 1988 FA Cup winners used to play, has been home to greyhound racing since 1928 but attendances have halved in the last decade and some of the buildings have become dilapidated.
AFC Wimbledon was set up in 2002 by fans of the former Wimbledon FC after it left a nearby site on Plough Lane in 1991 and, controversially, to Milton Keynes under the name MK Dons. AFC Wimbledon, which currently plays in Kingston, teamed up with Galliard Homes to put together its proposal to take over the dog track.
It is also working with the stadium's owner, Greyhound Racing Authority Acquisition Ltd, which was bought by venture capitalist Risk Capital Partners in 2005.
The client commissioned Sheppard Robson and landscape practice Turkington Martin to design an 11,000-seater stadium with the flexibility to double capacity if the club's fortunes prosper. The scheme also involves 600 homes plus commercial, retail and leisure space.
Constructing the first phase of the stadium is estimated at £18 million which would be raised through a combination of naming rights for the new stadium, a community share issue and enabling development.
Merton council is due to determine the application early next year. If successful, work could be completed in 2018.