Council had said work would start in early 2020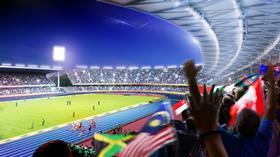 A contractor is now unlikely to be chosen to carry out the £70m upgrade of Birmingham's Alexander Stadium until next year.
A spokesperson for the city council confirmed a contract was likely to be awarded at some point next year – having previously told Building construction work would start in early 2020.
He said: "As we are in an ongoing procurement process, we cannot divulge any information at this stage. The indicative date for a contract award is 2020."
The council kicked off the search for a contractor in May, putting a price of £63m on the main package of works. It has promised to shortlist up to six firms for the job.
The revamp of the stadium, which is already home to governing body UK Athletics, will increase capacity from 12,700 to 40,000 for the duration of the games.
The redevelopment will increase the permanent capacity of the venue after the games to 20,000.
Mace is already working on the £70m redevelopment, acting as project manager, while Arup was appointed to draw up the designs in October last year.
Plans for the redevelopment are set to go before planners in September, while the demolition of the current west stand will be subject to a separate application which will be submitted to the council later this summer.
The games are due to start at the end of July 2022.