A team led by Bam has been chosen by Transport for London
A team including Bam and Ferrovial subsidiary Cintra has been chosen as the preferred bidder for the £1bn Silvertown Tunnel.
Transport for London has revealed the Riverlinx consortium, which includes Ferrovial-owned roads specialist Cintra, Bam PPP and Asutralian bank Macquarie Capital, had been chosen and it planned to start work on the east London project later this year.
The Riverlinx team beat German Hochtief PPP Solutions to be named preferred bidder on the job.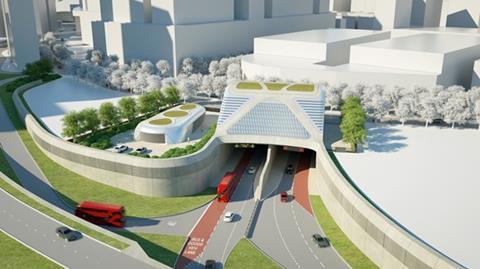 Bam and Cintra were left as the final two firms in the running for the job after a consortium involving Skanska and Austrian contractor Strabag that was also originally named on the shortlist withdrew from the race last year.
The controversial scheme was given the final go-ahead last year.
The tunnel will link the Greenwich Peninsula and the Royal Dock and aims to eliminate the congestion and reduce the environmental impacts caused by miles of standing traffic around the Blackwall Tunnel area.
Construction and maintenance costs will be covered via a user charge on both the new tunnel and the existing Blackwall Tunnel.
The project will be let through a design, build, finance and maintain contract, with Riverlinx receiving payments from TfL once the tunnel is open in 2025.
A number of environmental measures are part of the plan to build the tunnel, including a commitment from both the consortium and TfL that the majority of construction products be transported via the river.