Ian Meakins Wolseley CEO since July 2009 is to retire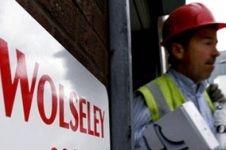 Building products distribution firm Wolseley has announced that its chief executive Ian Meakins has decided to retire at the end of August this year.
Meakins is to be replaced by the firm's chief financial officer John Martin who joined Wolseley in 2010.
Cobham's chief financial officer Simon Nicholls has been appointed as the new chief financial Officer to replace Martin.
Wolseley chairman Gareth Davis said Meakins had made an "outstanding contribution" during his seven years as chief executive and said Martin would drive improved operational performance and capitalise on opportunites to generate profitable growth. He added that he was delighted to welcome Nicholls to Wolseley.