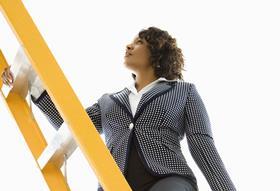 More than half of women working for construction firms believe they will have not the same chances as men to progress their careers.
All UK businesses with more than 250 employees are now required to report annually on the difference between the average hourly wages of their male and female staff.
Construction emerged as the worst-performing sector, with a larger gender pay gap than the financial services and the education sector.
In a Building survey, just 45% of female respondents said their firm currently has equal opportunities for career progression, compared with 95% of male respondents.
"[They are] a white, male, middle class team who act as a little boys' club and promote their friends"

Anonymous survey respondent
And just 13% of female respondents employed by firms that have a plan to close the gap consider the measures sufficient, with 50% of men having the same opinion.
More than four in five female respondents (81%) said the sector's pay gap is influenced by an under-representation of women in the industry. Other factors seen as contributing to the gap included men being more likely to be promoted (60%) and women being more likely to take career breaks to have children (40%).
One woman said staff at her firm were not told internally the business had reported its gender pay gap and added: "[They're] hoping we will not notice there is no action plan to fix this either."
Another woman called the situation on gender pay "frustrating and disheartening".
One female survey respondent said the senior roles at her firm were dominated by a "white, male, middle class team who act as a little boys' club and promote their friends".
But a male respondent to the survey said employers were made up largely of men because women were turned off by the sector: "If women don't want to work in engineering and construction, a company has to employ those who are available."
Another male respondent admitted there was always likely to be a pay gap in construction but added: "As long as staff are treated fairly regardless of sex, so what?"
The median gender pay gap across the UK translates into women on average earning 90p for every £1 that men earn, but the top 40 contractors and housebuilders pay women just 74p for every £1 men take home, while only one in 10 of their highest earners are women. The top 20 consultants pay women 74p for every £1 men earn.