David Mosey is content in a traffic jam if gazing at the Hoover Building's art deco frontage, but the imposing Gothic facade of the Royal Courts of Justice makes him hail the nearest cab
The Hoover Building in Perivale inspires me even on a rainy day in a traffic jam on the A40. It is a monument to the delights of art deco, designed in 1931 by Wallis Gilbert & Partners and built by Higgs & Hill from steel reinforced "Snowcrete" - a white concrete finish suitable for English construction as it looks brighter after rainfall.
Red, green and blue "Egyptian" decorations manage not to be kitsch, and radiating geometric glasswork draws the eye to the main entrance. The lines of the building are clear and bold, conveying the spirit of an era of architectural optimism.
This excellent building remained Hoover's UK HQ until the late eighties and was immortalised in the Elvis Costello song "Hoover Factory". The fact that it is now a supermarket does not detract from its grandeur and purity of design.
By contrast, the Royal Courts of Justice on the Strand, completed in 1882 by Messrs Bull & Son of Southampton, are a Victorian Gothic nightmare with a sorry history. The architect, George Edmund Street, came eighth in the design contest and, morbidly, the construction cost was paid for by cash the estates of those who died intestate. Even more ominous was the fact that a strike by British stonemasons was dealt with by importing German workmen, housing them within the building itself and feeding them supplies via an underground tunnel so as to get past the protesters outside.
The entrance intimidates visitors with the might of the law and inside the Great Hall is vast and cathedral-like. But the Strand facade, built in Portland Stone, is overblown, incoherent and sprawling. It provides a vulgar contrast to the ancient and elegant Inns of Court that surround it. This was the last of the Victorian Gothic public buildings and marks the end of an era, in my view not before time.
WONDER
The Hoover Building was designed for the Hoover Company as a factory with production at ground floor level and offices above. Completed in 1932 and listed in 1980, the Grade II building was in use until the late eighties. The production area is now a Tesco store. The art deco features on the exterior have been restored.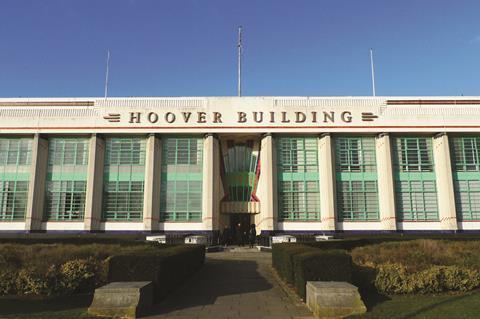 BLUNDER
The Royal Courts of Justice, also known as the Law Courts, was opened by Queen Victoria and house the High Court and the Court of Appeal. The court rooms are open to the public although there may be restrictions depending on the case. The building contains more than 1,000 rooms and a 3.5 mile of labyrinth of corridors.
Dr David Mosey is partner and head of the projects and construction at Trowers & Hamlins