Consultant forced to take £3m loss on business it bought for Moorside development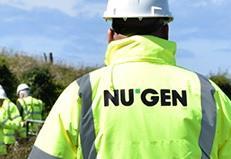 Consultant WYG has criticised the government for not being clear enough in its support to build a nuclear power station in Cumbria.
Publishing its annual results in June, WYG said it was forced to book a £3.2m cost on closing a business that it bought because of the work it expected to be carried out at the Moorside plant.
Land and property firm North Associates was snapped up in 2015 but delays on the plant forced the firm to shut the Carlisle-based business in March.
Last week Toshiba said it would wind-up its NuGen business which had been slated to carry out work building the plant at Moorside.
NuGen was originally a joint venture between Toshiba and French utility firm Engie but ran into trouble last year when Toshiba's US subsidiary Westinghouse – which had been due to supply the nuclear reactor for Moorside – filed for bankruptcy.
But WYG's managing director of surveying and asset management Craig Hatch said Toshiba's decision had been made "inevitable" because of dithering by politicians. He added: "Local support from MPs has not manifested itself into a clear form of government action that could have prevented this from occurring.
"The knowledge, drive and determination of the NuGen team will now be lost so that when hopefully the project is resurrected in some form, a lot of re-work will be required."
Toshiba spent 18 months trying to sell NuGen but failed to find a firm willing to invest in the nuclear project. It said winding up the company would cost it £125m.
Engie walked away from NuGen, leaving Toshiba to try and sell the vehicle after posting a $8.4bn (£6.4bn) loss for the year ending 31 March 2017.
South Korean state-owned Kepco was chosen as preferred bidder over China General Nuclear in December last year but lost its preferred status in August after protracted talks hit delays – including a change of chief executive and a new government in Seoul.