Accounts first set to be published since architect died last March
Falling workloads in Asia and the Middle East helped send turnover and profit into reverse at Zaha Hadid, according to the first set of accounts filed by the practice since her death last March.
The two regions have been the bedrock for growth at the business in the past years but revenue from the two slumped by close to a quarter from £37m to £28.5m in the year to April 2016.
Work in the US also slipped by 13% but work from the UK and Europe increased from £3m to £7.5m.
Asia and the Middle East still account for more than half of the firm's £46.6m turnover which was down 6% on last time. Pre-tax profit at Zaha Hadid Holdings slipped 16% to £5.1m.
In a directors' report put together by sole director Nigel Calvert, a partner in London law firm Calvert Solicitors, the firm said it has 25 projects on site – a record – with a further 28 in design development covering a 26 countries.
Among the schemes the firm is working on is a residential job in Melbourne, Australia, a cultural centre in Saudi Arabia and a new football ground for non-league side Forest Green Rovers. It is also one of 10 teams on the shortlist for a new National Holocaust Memorial close to the Palace of Westminster.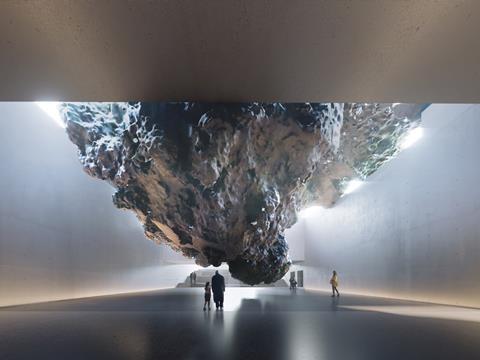 The number of staff at the year end stood at 379, down from 2015's number of 402, although its wage bill went up more £400,000 to £17.3m.
The results also reveal Hadid herself racked up personal expenses of £1.6m – from just under £3m last time – which were paid for by the group while the company also settled a personal tax bill of £1.5m on her behalf.
Last month it was revealed Hadid left a fortune of £70.78m, the vast majority of which will be held in trust for distribution by her executors.
The architect's will revealed business partner Patrik Schumacher receives an inheritance tax-free lump bequest of £500,000, as do the architect's brother Haitham Hadid, neice Rana Hadid – a Lebanon-based architect, and nephew Hussein Hadid.
Hadid's neice the painter and filmmaker Tala Hadid and nephew Nik Williams were left £100,000 each.
In addition to being beneficiaries, Schumacher and Rana Hadid are both executors of the will, along with Lord Peter Palumbo and the artist Brian Clarke. The four are also the sole current directors of the Zaha Hadid Foundation.
Schumacher, who is principal of Zaha Hadid Architects, found himself at the centre of controversy last year when off-the-cuff comments about the future of social housing and potential redevelopment of Hyde Park went viral after being aired at a Berlin architecture conference.