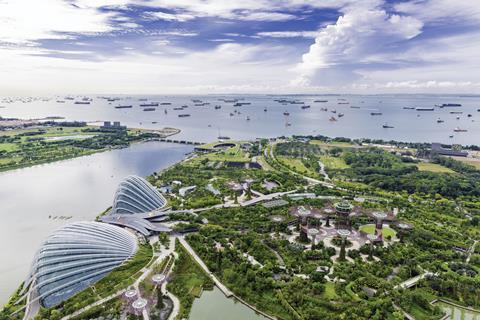 Dome sweet dome
As we study all things South-east Asian this week, while in the UK gardens bloom in the summer sun and visitors flock to Cornwall's Eden Project, we look back to 2012 to see how Singapore does gardening. As you would expect from the city-state, it's not on a small scale.
"By any stretch of the imagination, Singapore's Gardens by the Bay is a monumental undertaking," said Building. A collection of three new gardens (pictured) had been built on the waterfront, with the South Bay garden crowned by two gargantuan glass greenhouses designed by Wilkinson Eyre.
The domes were some of the largest climate-controlled conservatories in the world, dwarfing the Eden Project. The 12,800m2, 35m-high Flower Dome houses plants in Mediterranean conditions, while the Cloud Forest Dome measures 7,300m2 and contains a tropical climate. The utmost Cloud Forest towered 60m above the ground and contained a 35m "mountain".
Building said it "speaks of the chasm in confidence and ambition that increasingly exists between a rampant Asia and a stymied West".