Former Arup US boss, Ray Crane, was among those leading the rescue effort following the 9/11 terror attacks in New York City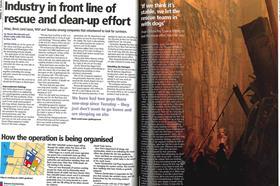 Terror in New York
As last weekend marked the 15th anniversary of the 9/11 terror attacks in New York City, we take a look back to the aftermath of an event that gripped the world's attention.
Former Arup US boss, Ray Crane, was among those leading the rescue effort during the days and weeks following the attack. He spoke to Building about what they were up against.
"It's mind numbing. There has been a sense of hopelessness in the city – thousands of people have been lining the streets to volunteer to help.
"We have been organising teams to go down to sites to assist with the search and rescue operation. It is some comfort to be a structural engineer as we are able to help.
"People have been working eight to 12 hour shifts. We've been called upon to give instant advice - is it safe to go in there? Can we move that? There are no calculations we can make to guide us, which is a little scary."
See PDF file below to read the full article.