London wins the right to host the 2012 Olympics
On top of the world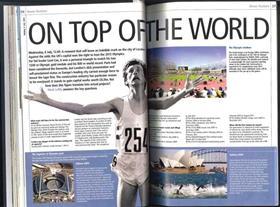 One decade ago, come 6 July, London won the right to host the 2012 Olympics, writes Hollie Tye. Despite the odds being in Paris' favour, London's well-formed presentation and "self-proclaimed status as Europe's leading city" resulted in a glorious win for the capital.
Regardless of the pressure for immediate infrastructure improvements, it was believed that the capacity of London's construction industry was better equipped to handle the enormous project than many of the previous host cities; including Athens, Sydney and Atlanta. At the time of the announcement, Building made various predictions in regard to the cost and timescale of the numerous projects that were due to get underway in London, such as the Olympic stadium, the velodrome and the aquatics centre, as well as a new retail park and thousands of homes, which would make up the athletes' village.
The most important venue of the games, the Olympic stadium, had predicted construction dates of between July 2008 and February 2011, at a cost of £254m. It was completed on time, in March 2011 and reportedly under budget, though vastly over Building's prediction, at £486m.