Frozen salaries have got many looking to change jobs, according to this year's contractor salary survey compiled by Hays Construction. So what's the outlook for those who have forgotten what a pay rise is? Building peers into the distance for a glimmer of hope
Did you know that 50% of your colleagues - or employees - are looking for a new job? Building's latest research reveals that half of those working for contractors want to switch jobs in the next 12 months.
It's easy to see why - our 2011 contractors' salary survey compiled by Hays Construction shows that over the past 12 months most pay packets have remained static. As the construction recession drags on - with Experian saying the sector will shrink 3% in 2011 and even the mighty Laing O'Rourke reporting a 50% fall in pre-tax profit in August - some 49% of employers told us they had not offered anyone a pay rise in the year to date. So this year's tables show there have been a handful of small rises for certain roles and plenty of falls, although at least the drops are less dramatic overall than in 2010.
We examine how salaries for different types of job have fared over the past year and how employers' relations with employees continue to languish at an all time low. Plus, we ask industry experts what must change in order for salaries to rise in the next year and, with some trepidation, whether there is any hope that this will happen.
Static salaries
Lynne Crowe, business director at Hays Construction, says that "contractors' salaries have not moved massively in the past 12 months". The research shows, for example, that the national average wage for a site manager is now £32,818, just a few hundred pounds up from £32,364 in 2010. Similarly, a contractor's engineer is on an average of £28,818 this year, barely any change from £28,064 last year.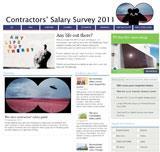 Interactive contractor salary survey
Visit our interactive salary survey to find average salaries at contractors by job type and region. Sort and rank the salaries for QSs, project managers, engineers, planners and health and safety professionals.
> Visit the League table homepage. Salaries are for the 12 months to August 2011.
QSs have also seen a tiny bit of movement, with senior contractor's QSs now earning an average of £40,909, inches up from £39,292 in 2010, and the average for a contract QS is now £31,727, up from £30,208. Digging into the figures shows this is less positive than it may at first seem. Crowe says the rise is partly down to a spike in demand in the North-east caused by a "slight recovery" from a severe dip in which "everything in the region was on hold". Salaries for both senior and contract QSs in the North-west have increased by £3,000 apiece. But Crowe says that, "overall, both QSs and estimators are in more demand as more projects are getting to the planning stage and everyone is tendering as much as possible, meaning people who can price jobs are critical."
This has not translated into demand for planners, however. The national average pay packet for a senior planner is down to £41,636 from £43,364 in 2010, planners are down to £32,955 from £33,818 and assistant planners to £21,727 from £23,318. Alarmingly for the profession, Crowe says this is because contractors are using other people to do planners' jobs: "They are trying to save money by getting contract managers to take over this role."
Senior site managers and foremen are also increasingly seen as surplus to requirements. Crowe says: "Because projects are smaller, contractors feel that they can use a less senior foreman or even an experienced specialist contractor - again, saving costs."
Health and safety experts have fared better, with H&S directors experiencing the biggest rise in average pay, of 6.1%, and senior H&S managers, 4.3%. Again, these rises reflect recovery from a severe slump in demand. Aine Flood, senior manager at Hays Health and Safety, says: "When the recession came in, many companies reduced their health and safety staff to a minimum. With increasing numbers of corporate manslaughter cases coming to court, they have realised that they will need to be a bit more generous in order to hire the right people."
Employee morale
The survey shows starkly how frozen salaries - and no doubt the widespread salary cuts that have taken place (see pages 41-43) - are hitting morale. Half of the employees surveyed said they wanted to change jobs within a year, almost a third said they felt "undervalued" in their current role and 38% said they "deserved more" in their next job.
There was also a clear sign that pay is a major source of discontent. Whereas in previous years employees said that when assessing a new job opportunity their top priority was "finding engaging work", both this year and last year the number one concern was "basic salary".
Employees also feel overworked. Two-thirds said they were now being asked to do more work for the same pay and 65% said they would stay with their employer if the issue of workload was addressed.
Slim hopes for rises
So what hope is there of an improvement in the coming 12 months? Martin Hewes, construction economist, says: "As the overall stagnation in contractor salaries is linked directly to falling output, for salaries to rise, quite simply the market needs to see more activity - and unfortunately the outlook is not good at the moment."
Experian is forecasting that the construction economy will contract by 4% in 2012. While there has been some debate around construction statistics, nobody is expecting the next 12 months to be easy. Hewes says: "Last year there was still a lot of work in the public sector pipeline but these jobs are now completing with nothing coming through from the government to replace them, so what is going to happen to the people working on those jobs?"
The signs of life we are seeing in the private sector will not be enough to pick up the slack, he says. "The £15bn Building Schools for the Future programme was a hefty programme - it dwarfs a few towers in London." And the stockmarket turmoil of the past weeks will make investors even more wary of backing developments. Unsurprisingly then, perhaps, Hays found that 43% of employers said they would not be increasing anyone's pay in the coming 12 months.
Tony Williams, an analyst at Building Value, says: "If anything, salaries will go down in the next months." In fact, he says the salary levels of the boom years were more of an anomaly than a natural level to which we should expect to return. "For 15 years contractors made out like bandits and things peaked in 2005-7 but these were not normal years" - and salaries rose to equally "abnormal" levels. Williams says while output peaked at around £110bn in 2009 (in real terms), the forecast for 2011 is £19.2bn, which makes current salary levels looks relatively high.
The future
Williams says, however: "There is life after death." The first sector to pick up - and hence see some pay rises - will be commercial, he says. "The commercial sector really has turned a corner." He cites projects like the Pinnacle, on which main contractor Brookfield restarted work in June and the Cheesegrater and Walkie Talkie tower as positive signs. But don't expect a boom soon: "Jobs will be plentiful in the commercial sector first - in two, three or four years."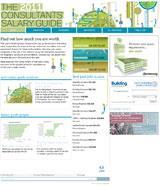 Interactive consultant salary survey 2011
Our interactive salary survey for pay at consultants includes average salaries by job type and region. Sort and rank the salaries for QSs, project managers, engineers, planners and health and safety professionals.
> Visit the League table homepage. The salaries are for the 12 months to April 2011
Mace - Bucking the trend
In sharp contrast to the majority of its rivals, Mace is in the midst of a recruitment spree. The firm's construction division has taken on 250 staff this year and plans to hire a further 200 before the end of 2011.
Kath Knight, HR director, says this is down to new work won, mostly in the UK - which one analyst says can only mean Mace is taking market share. Knight believes the firm is winning more work due to restructuring the construction division into 12 sector-based groups - residential, commercial, aviation and so on. "It allows the manager of each group to really dig into their sector."
Mace is hiring people at middle management level, so it is looking for a degree of experience. Knight says: "We don't recruit more senior people as we like to give our own employees the chance to aim for promotion."
The graduate programme is in full swing too, with 25-30 grads being taken on a year, in line with pre-recession levels. Knight says that after cutting down to an intake of 12 in 2009 the firm decided to return to previous levels "because these people are the managers of the future."
8build: Why our salaries are on hold
Salaries at contractor 8build are on hold indefinitely. But the situation is actually better than it was. Director Nigel Bellamy says: "Soon after the Northern Rock fiasco in 2007 the construction market went into stagnation so we cut pay by 10% for all staff earning over £30,000 and directors took a 20% cut." Eighteen months later 8build felt confident enough to reinstate all salaries. The problem for employees, though, is that for the majority, their pay has been frozen ever since. Bellamy says: "Our view is that we are well paid in contracting compared with other sectors but the downside is that this is a volatile industry, so you have to take the rough with the smooth."
Top 10 salary rises and falls
| | |
| --- | --- |
| RISES | |
| H&S DIRECTOR | 6.1% |
| CONTRACT QUANTITY SURVEYOR | 5.6% |
| SENIOR QUANTITY SURVEYOR | 4.5% |
| SENIOR H&S MANAGER | 4.3% |
| JUNIOR ENGINEER | 4.2% |
| | |
| FALLS | |
| ASSISTANT PLANNER | -6.8% |
| SENIOR PLANNER | -4% |
| PLANNER | -2.6% |
| SENIOR SITE MANAGER | -2.3% |
| GENERAL FOREMAN | -1.7% |
FOR THE FULLY SEARCHABLE SALARY TABLES INCLUDING COMPARISON WITH LAST YEAR'S RESULTS, GO TO