Remote working isn't going anywhere anytime soon so why not find the products that save time and reduce costs across the business
The construction industry was recognised as an essential service during the last UK lockdown, with firms across the regions continuing to operate to keep the country running. To ensure staff safety, many had to quickly get used to a new way of working, with head offices closed and home working the new norm. Open ECX's cloud-based eTrading solutions supported a number of businesses within the sector during this period, ensuring the transfer to digital processes was as simple as possible.
Working from home may no longer be necessary from today, 19 July, according to new government guidelines, but remote working isn't going anywhere any time soon. Many prefer it and others find it way more efficient, with businesses reporting huge savings in overheads such as office space and staff transport. For those that do decide to go back to the office, the number of employees returning may be limited and many team members may request to stay remote. With this in mind, Open ECX's products are more valuable than ever.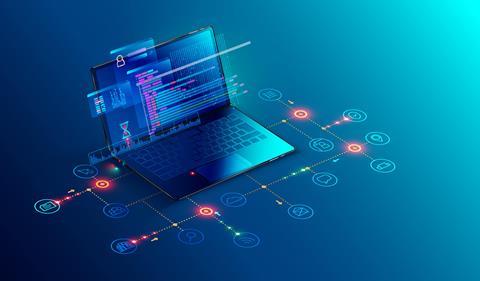 Open ECX's WebContractor, an innovative, cloud-based solution allowing for a simple end-to-end management process of payment applications, offers key benefits to teams while working remotely. Providing a shared workspace easily accessible to the whole team, the tool is proving to be vital to some of the biggest names in the construction sector, managing some of their most important commercial processes.
In place of face-to-face meetings and manually processing and exchanging paperwork, WebContractor offers a hassle-free, modern way of working, tackling some of the biggest challenges facing the construction industry today.
One company making the most out of WebContractor while some of the workforce is remote is Eurovia.
Andy Dunn, commercial manager at Eurovia, said: "Everything is in one place and everything is taken into account – WebContractor automatically notifies the appropriate team member, at the right time, to action their task.
"Anyone from the team can access it so things can't be missed and therefore nothing has to be rushed through. It cuts the time and risk presented by the old-fashioned model of Excel spreadsheets, paper printouts, hand signatures, etc. – it's allowed us to move to a fully digital way of working."
Helping construction firms and their supply chain partners remotely manage projects, our solution introduces a transparent management process, taking away the stress, risk, and potential complications, of manually dealing with applications for payment. WebContractor can be introduced as a standalone system or is easily integrated with existing back-office structures – including SAP, COINS, Kerridge and Microsoft Dynamics AX. The contactless, remote platform means less travel and risk, allowing both contractor and subcontractor teams to access everything they need from home through a virtual office.
Wes Simmons, Open ECX chairman, commented: "Our solutions have always shown huge value to our users, from reducing risk and cost to streamlining everyday processes. In recent months, they've also proven their worth to many while working from home – WebContractor in particular. This is because it provides a digital platform for all of your company processes and dealings, there's no need for your team to be in the same room or put at risk.
"We've received some fantastic feedback from customers and know many intend to continue using it as a company-wide solution for remote working."
As well as WebContractor, Open ECX provides eInvoicing and eOrdering. eInvoicing is a supplier-friendly way to immediately send and receive eInvoices, enabling the automation of the Accounts Payable function vie the e-HUB. The eOrdering software sits between the buyer and supplier, offering a faultless solution to capture and process orders.
Open ECX ensures a seamless transition to all of their solutions, with no appreciable gap in operation. Used by some of the biggest names in the industry, the products allow them to save time and reduce costs across the business.
For further details on Open ECX and it's ground-breaking solutions, visit www.openecx.com