The move creates a single, consistent brand across the UK and Europe
Elliott Group Ltd, Carter Accommodation Ltd and Procomm Site Services Ltd, leaders in UK modular services and part of Modulaire Group, have announced plans to unite under a common brand – Algeco.
A surprise to some, not so to others – Algeco is a long established brand in the European modular services and infrastructure industry, originally formed in 1955 – making the rebrand a hugely exciting new chapter for the UK business.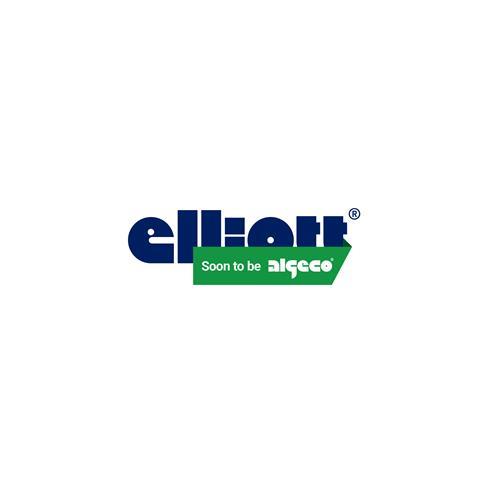 The move creates a single, consistent brand across the UK and Europe, to reflect the group's position as a global industry leader. Algeco has a proud heritage across Europe, providing a strong basis for the single identity, which will facilitate growth in its brand equity and allow greater synergies to be achieved within the Modulaire group.
Customers can expect to see a stronger, combined UK organisation as well as more sharing of innovations and resources within the group, and a unified product range available throughout the UK.
It's expected that the rebranding process will be effective from 31 March 2022.
These are exciting times for the hire, modular hire and offsite solutions' business and the challenge now is to take customers on this brand journey. Here we talk to John Campbell, UK managing director at Algeco. about the rebrand and what it means for the future.
Who is Algeco?
Algeco, is part of the Modulaire Group, Europe and Asia Pacific's leading specialist in modular services and infrastructure. Over the last 60-plus years, Algeco has consistently achieved industry firsts.
It introduced the first stackable modular accommodation in 1965. Throughout the 70s, 80s, and 90s, the brand developed a stream of further innovations that expanded its high quality modular accommodation from construction into education, health and commercial sectors.
In 2005 Algeco developed the Progress modular system, which offered comfortable, stylish, modern, innovative and eco-friendly spaces. Range diversification and product line extension further enhanced the appeal of Progress with customers. By 2015, Algeco was offering full turnkey spaces with customised services; connectivity, furniture, hygiene kits, security and modular interior design.
The business now offers a vast range of physical space solutions from temporary accommodation and storage solutions, through to highly sophisticated design and build permanent multi-storey offsite solutions for specialist workplace, social infrastructure, health and education sectors.
Why is Elliott changing its name to Algeco?
We have been planning the rebrand to Algeco for some time and it coincides with sustained growth in our UK businesses. At the same time there is unprecedented change happening in the way that physical spaces are created in a wide range of vertical markets, driven by climate change, safety and growing user expectations.
Algeco has a proud heritage of serving customers across Europe, providing a strong basis for the single identity, which will facilitate growth in brand equity in the marketplace. Adopting a single brand in the UK will create a common sense of identity and purpose for the newly combined UK business.
How will the product ranges be integrated within a single, unified brand?
This rebrand is more than a change of identity. Incorporating three separate brands into one UK entity has also meant business integration. A key element involves aligning the product lines and product architecture to further strengthen our overall offering.
Elliott, Carter and Procomm are well respected businesses in the markets they serve, and all have strong product line brand names that complement our offer. The Elliott Moduflex system is well established in the site accommodation market. Carter is a leading player in the temporary accommodation hire business with a modern and well-invested fleet. It is well known for its Containex product, which offers quality modular site accommodation. Procomm is a large customer of Carter, which provides obvious synergies.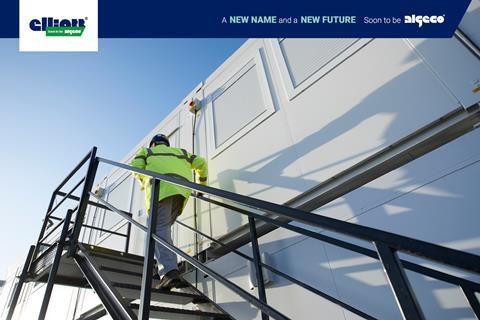 Where will Algeco be headquartered in the UK?
The combined UK business will be headquartered in Peterborough, Cambridgeshire with a total of 23 site locations throughout the country servicing its portable, modular building and offsite construction hire and sales activities.
Advanté will remain a separate brand but still part of the Algeco group, with its specialist offering in welfare accommodation.
What does the Algeco brand mean to customers?
The new brand represents our collaborative approach to finding solutions for customers, developing both our products and our people to deliver leading quality service and ensuring the futures of customers, their end users and our organisation are sustainable.
The rebrand is a major milestone for the UK business and comes at a time when post-covid government stimulus programmes, aging building stock and a structural shift towards modular space are driving demand. Additional stimulus is coming from specifiers looking for building solutions with a smaller carbon footprint, reduced waste through the construction cycle and exceptional energy efficiency.
This presents a fantastic opportunity for the Algeco brand and its modular, hire and offsite solutions to become synonymous with innovation and sustainability, which will drive reinvention of physical spaces. This new brand and evolving positioning perfectly illustrates our growing ambition to lead the market. We have an exciting future ahead of us!
What is the vision for the new brand?
We want to be trusted solutions advisers to the markets we support. By doing that, our goal is to be be clear market leader in modular and temporary accommodation.
The rebrand will be a journey that opens up opportunities for UK customers as we begin to share ideas and resources. It will see an acceleration of new product development, and we already have some exciting innovations in the pipeline. If you were to summarise the brand it would be that together, we develop sustainable futures.
Meanwhile, look out for the new Algeco website, scheduled to go live at the end of March.