BIM can support increased efficiency end-to-end workflow
Technology is disrupting industries and changing the way we work across the board, yet, the construction industry has fallen behind in terms of adoption rate of digital processes and technology innovation.
There is a need for change, yet many construction businesses remain hesitant. Older ways of working are no longer sustainable in a rapidly advancing society and while it is a resilient industry, construction needs to keep up with other industries. There are gaps in project planning, co-ordination of workers, supply chain and tool innovation that digitalisation can help address.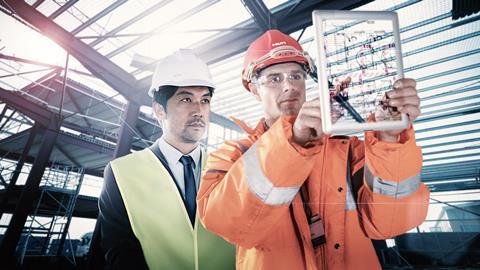 We find ourselves at a pivotal juncture as Covid-19 is pushing digital transformation on years ahead of time. The bigger picture of how digitalisation is shaping the future of the construction industry is becoming clearer.
One of the main innovations shaping the construction industry is Building Information Modelling. BIM is a complex process that allows users to manage building projects collaboratively. Data is input from all teams and departments involved in the process. Structured data helps build a functional overview of projects, modelling different materials, and helps co-ordinate all efforts. BIM helps make sense of multiple sets of data that when used effectively, creates a 'digital twin' of the site, providing a single source of reference to support carrying out construction projects most efficiently.
Construction companies are seeing the benefits of BIM and adoption rates are increasing. According to Statistica, the BIM adoption rate in construction industry in the UK is growing; with 69% of construction industry professionals using building information modelling in 2019, up from just 48%, five years prior, in 2014.
One of the benefits of using BIM is spotting issues that may arise further down the line, earlier on in the process. A recent National BIM Report (2019) has found that 60% of construction professionals say BIM has brought them cost efficiencies. Eliminating the risk for costly oversights, such as running out of a material needed to complete a job halfway through the day which leads to unnecessary downtime. Putting a job on hold while waiting for a new shipment to arrive is a blow to productivity and costs which can also impact deadlines. The same report finds that almost three quarters of professionals say that using BIM has resulted in savings for operations and maintenance. With BIM, everything needed to complete a job is organised and ordered ahead of time making operations run smoother and maintenance costs be projected for.
Using BIM facilitates efficient planning, decision-making, analysis and forecasting, as well as building monitoring for post-construction. Digital, cloud- based platforms like BIM are also integral to the shift we're seeing toward increased remote working alongside Covid-19 restrictions. Being able to access data from any location, at any time, supports safer working for all involved.
Embracing digitalisation through BIM technology is an exciting opportunity for businesses to fully immerse themselves in a new and exciting way of working. There are solutions out there for implementing BIM services across your business. Whether you work in design, construction or facility management, BIM can support you in upgrading to an extremely efficient end-to-end workflow.