Eleven days of free exhibitions and events hosted at Construction Scotland Innovation Centre (CSIC) set to highlight opportunities to combat climate change
CSIC has unveiled plans to put the built environment at the heart of addressing climate change by hosting an international showcase that will run alongside the COP26 summit at its Innovation Factory in Hamilton, near Glasgow, from 1-12 November.
Through a carefully curated collection of new low and zero-carbon materials, innovative concepts, and prototypes, CSIC aims to shine a spotlight on the alternatives available to the construction sector and the emerging opportunities to build more sustainably.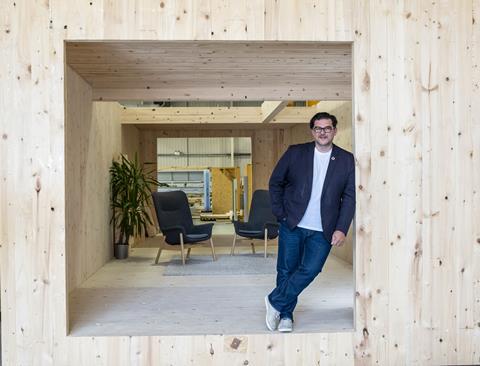 CSIC is welcoming visitors to come along and learn more about the ideas that could pave the way for the future of the sector. Innovation is helping to create a more sustainable built environment and while the materials, processes and skills already exist, they need to be mainstreamed and scaled-up across the industry.
With construction and the built environment accounting for as much 47% of UK carbon emissions, CSIC has recognised the major role it must play in transitioning to zero carbon, with innovation critical to making meaningful and long-lasting change.
Stephen Good, chief executive of CSIC, says: "Climate change is at the top of the global agenda and, with COP26 arriving in Glasgow next month, the eyes of the world will turn to what Scotland is doing to achieve net zero. The construction sector shapes the built environment around us and must decarbonise at pace – COP26 can be the catalyst for change. We need to start looking at sustainable alternatives to today's solutions, and how emerging innovation can be adopted at scale.
"The idea behind the two-week built environment showcase – BE@COP26 – is to highlight the progress already being made towards a zero-carbon future, with leading exhibits and prototypes to inspire and educate people on the opportunities and possibilities to do things differently. Cutting-edge materials, processes and next generation skills already exist across the industry, but the real challenge lies in making these the norm."
Prototypes and exhibits
SNRG Transforming Timber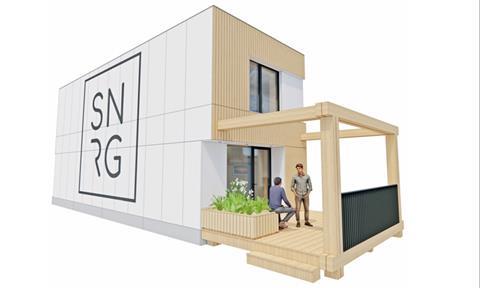 Learn more about the UK's first two-storey modular home manufactured from homegrown engineered timber by touring the fully functional prototype that could unlock the greater use of the sustainable, natural material for the structure of buildings. It is the first cross-laminated, nail-laminated and glue laminated timber housing unit using materials grown, harvested, and engineered in Scotland.
NearHome
Part of the Scottish Government's 20-minute neighbourhoods initiative, the prototype shows how disused public spaces can be transformed and retrofitted into sustainable, local work hubs - reflecting the changing work patterns of a post-Covid society. Sustainability is at the core of its design, with the concept centred around an adaptable kit-of-parts structure that can be installed quickly and with minimal interference for the building's external fabric.
Kenoteq
Kenoteq is building a sustainable future, brick by brick, through its innovative K-Briq made from 90% recycled construction waste. It is proven to be more durable than traditional bricks, and visitors to BE@COP26 are invited to see it for themselves at the Kenoteq brick wall.
MultiPly
The carbon-neutral, modular wooden pavilion made entirely of American tulipwood was the star of the London Design Festival and sections will be on display at the Innovation Factory. The wider concept outlines a maze-like series of interconnected spaces that overlap and intertwine, encouraging people to re-think the way we design and build our homes and cities.
Low Carbon Learning
View CSIC's Passivhaus training rigs, which form a key part of a new upskilling initiative to teach low-carbon construction and retrofit skills that will help us to deliver a sustainable built environment.
EXSKALLERATE
The demonstrator explores the potential for exoskeletons to be used more widely among construction and manufacturing SMEs to reduce the potential health impacts associated with demanding physical work. CSIC is currently conducting trials using the equipment for a range of roofing, flooring and scaffolding activities.
Balfour Beatty Innovation Pod
Experts from Balfour Beatty will demonstrate the power of digital transformation and how technology is helping to curb emissions. They will show how big data is being turned into real-time information - enabling teams to remotely and efficiently manage some of the UK's largest construction projects.
Cities4Forests Boardwalk
The Boardwalk will bring Glasgow's Partner Forest Programme to life – an initiative designed to link cities with tropical forests to support conservation and help sequester millions of tons of carbon.
The HideAway Cabin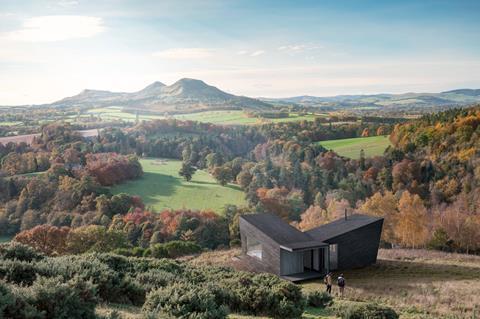 The cabin is the first of a range of designs to come from Off Grid Travel, offering imaginative, sustainable accommodation through high performance, energy efficient buildings that use renewable resources.
Programme of events
Wood for Good – Tuesday 2 November, 9am-4pm

Sponsored by Wood for Good, the one-day conference celebrates the role of timber in construction, and its growing popularity as a zero-carbon construction material of the future.
Speakers include Andrew Waugh from Waugh Thistleton Architects, the UK's leading voice on timber construction and an advocate of low carbon design, and Andy Leitch, deputy chief executive at Confor, the membership body for the forestry and wood sector.
Discussions on the day will cover timber construction and engineering, carbon capture, as well as an update on the progress of the Transforming Timber initiative.
BE the Solution to the Climate Emergency – Friday 5 November, 9am-4pm

This flagship event will explore some of the solutions to climate change that are already being developed - including materials, processes and skills - and how these can be mainstreamed across the industry.
Turner & Townsend and the Passivhaus Trust are among the organisations leading events as part of the conference, with topics such as emerging technology, the retrofit challenge, modern methods of construction and circular materials included as part of the programme.
Guided Innovation Factory tours – 1-12 November, various times

CSIC experts will accompany visitors as they tour the Innovation Factory and experience cutting-edge innovation first-hand, realising the potential to transform the built environment.
Tickets for BE@COP26 tours and events are free, and can be booked now via: be-at-cop26.org
CSIC is Scotland's national innovation centre for the built environment and its core mission is to accelerate the sector's transition to zero carbon by supporting research and design initiatives, offering access to cutting-edge tools and equipment and leading expertise.
Stephen Good adds: "The innovation centre already acts as a catalyst, bringing the built environment ecosystem together to inspire collaboration, and our role during COP26 is no different. CSIC is providing a focal point to inspire action and drive change across the industry, public and private sector clients and entire supply chains. We're working with a range of partners to build a showcase that will leave a lasting impact on the future of the built environment."