Delivering net zero buildings is construction's next big challenge. Building, together with Bluebeam, invited a range of industry experts to discuss what kind of practical approaches can best make this happen, such as in measuring carbon and imposing accountability
The government has set a UK target of achieving net zero carbon emissions by 2050. Throw in a growing number of local authorities setting their own ambitious emissions goals, and it's easy to see why pressure is mounting for the construction industry to deliver a greener built environment.
The sector needs to ensure that any building it puts up results in a minimal carbon impact – from the materials and processes used to build it, the amount of energy used in its operation and maintenance, any refurbishment work and ultimately its end-of-life disposal.
And all of this is set against a background of keeping costs down and build quality high. It's quite the challenge.
To discuss this thorniest of subjects, Building magazine gathered a group of industry experts in a virtual setting. Meeting chair and Building group technical editor Thomas Lane kicked off the proceedings by asking how data might play a part in delivering net zero carbon buildings.
ISG's head of sustainable business, Debbie Hobbs, said it was important to start with the basics, namely understanding what was meant by "net zero". Hobbs said that while there were London Energy Transformation Initiative (LETI) targets, there ought to be a wider definition around what net zero actually meant.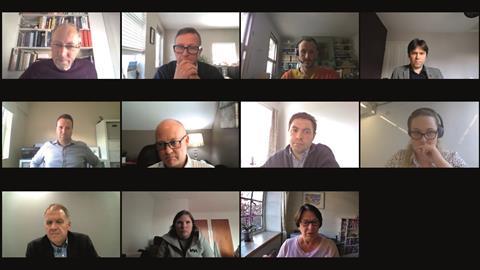 "Do you mean getting to an energy efficiency level where your building can use its percentage of renewable grid? And if so, what is that, and how do you calculate it? And if your building doesn't meet that with on-site renewables, can you still claim to be net zero if you buy offsets? We need some kind of certification scheme in the industry that keeps these standards working for us."
Where to start?
Roger Macklin, associate director at engineers Hoare Lea, said that from the outset it was essential to know how much carbon was being emitted from a building. "If you don't start there, how do you know what net zero looks like? I appreciate the concepts associated with embodied carbon for construction are different, but from an operational viewpoint the question is around: How much and what sort of energy are you using? When are you using it?
"Being able to make a calculation of the amount of carbon emitted by your activities is vital, because unless you know what that is it's very difficult to carry out a net zero calculation – because quite simply you don't know what it is that you're calculating."
We need some kind of certification scheme in the industry that keeps these standards working for us

Debbie Hobbs, ISG
James Chambers, regional director UKI at software provider Bluebeam, suggested that after having expended so much energy and activity on delivering a building it was a bit of a contradiction to then call it net zero.
"Some serious consideration should be given to the construction approach and methodologies in putting up the building to start off with, along with asking the question, 'What's your goal here?'."
Accurate modelling
While reducing carbon emissions to as low a point as possible was the prime goal, Building's Lane wondered how a developer might gather the relevant carbon-related information to inform how it could deliver, say, a six-storey office scheme, and what information would be required?
Craig Robertson, head of sustainability at architect Allford Hall Monaghan Morris, said it was vital to model such a scenario accurately – and at an early stage in the design process – around what would be going into a building, so as to be able to interrogate where the carbon is contained.
"It's also important to get data from one's supply chain. And we need to be able to interrogate our contractors and their supply chains to ensure that we get the things that we think we're going to get, or that we've accounted for," he said.
"Because if that's going to change through the procurement process we need to be able to have a model which is nimble enough to account for that and give us a running carbon total, so we can adapt the design as we go."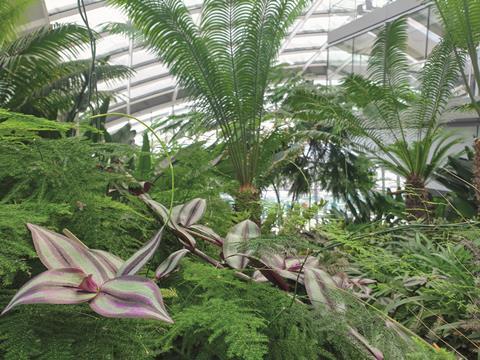 Environmental product declarations (EPDs) can help, Robertson said, provided they've been created with the right sort of methodology. Large organisations are more up to speed, but smaller local suppliers, where the value to the local economy might suggest a more sustainable option, don't have the money to invest in EPDs.
"So having a consistent methodology used across the industry would really help. Then information could be tagged into software material characteristics that we could then tag into a model, suck out volumetric data and get a carbon picture pretty quickly."
Alex Edmonds, associate director at engineering consultant Robert Bird Group, agreed. "We're quite good at identifying our raw materiality per project. But then the construction methodologies often vary between contractor to contractor and subcontractor to subcontractor. And there's a very broad-brush application of kilogrammes of CO2 per £100,000 capex on the project, which doesn't necessarily consider the complexity of build and doesn't help in understanding the true embodied carbon in a project."
One way to arrive at the true carbon content of a material – for example, as steel imported from overseas – was to "dive into the shipping information", said Andrew Pratt, associate director for structures at WSP. "Also, how did they heat the warehouse where it was stored, how has it been fabricated?"
It was challenging, he said, and not least because the potential data you would be looking at could almost be limitless. But it was "such rich information and there's so much of it, [but] you've also got to have the client with an appetite to actually take that data on to that level".
Operational carbon
Building's Lane moved the debate onto another point, that of a building's operational carbon. "A designer won't necessarily know who is going to use the building over the course of its life. Someone's got to keep a record of what energy is being used, of what servicing is being done, and the carbon impacts of that activity," he said.
Digital twins were one solution, suggested Kathryn Donald, digital design leader at engineering consultant Max Fordham, but it was important to get the right data out of a building and into the twin set-up in the first place.
"There's a need to ensure you've got the right specification of meters and sensors, because you need that data before that's then fed into the digital twin. How do we better suit that building for the activities that are taking place in it? I think there's a lot of data crunching going on there."
The idea that we can try to make some sort of estimate about usage over a lifetime that could be 30 years or more is a fool's errand

Roger Macklin, Hoare Lea
While a building can benefit from data in order to become more flexible and adapt to different needs, it still needed to be able to gather all that information, Donald added.
"Having systems in place that can talk to each other, using open protocol, and trying to integrate all of this together, is really important. That is one of the big challenges that software developers face; you're not going to get a one-product-fits-all."
One of the biggest headaches around assessing the carbon output of existing buildings, according to Hoare Lea's Macklin, was the difficulty in getting verifiable data out of them.
"I would pretty much guarantee you that 90% of electricity meters in buildings in the UK don't work. Part of the reason they don't work is because historically there's been no interest in using them. The only thing most people use them for is to pay the bill."
Macklin went on to suggest that assessing the energy usage of a building over its life would also be extremely difficult. "The idea that we can try to make some sort of estimate about usage over a lifetime that could be 30 years or more is a fool's errand."
One could look at individual components, and the different efficiencies of delivering a particular service.
"Rather than focusing on how much of that service is consumed, which is very difficult to do, you've got to make sure that the way that service is provided is as efficient as it can be," he added.
ISG's Hobbs warned that for any of this to be of use, the technology installed to gather the information had to be maintained to the highest standard. "Having done thousands of energy audits, I can't tell you the number of buildings I've been to where the outside air temperatures aren't calibrated. Controls won't work if you don't maintain them properly."
Net zero contracts
Hobbs went further, suggesting that from a building's conception the relationship with the client had to be different. "We've got to change contracts so that as builders and designers, we're contracting to deliver a building that performs not only in theory, but in practice. So we take a bit more risk, but we get a bit more reward once the buildings perform for the first couple years."
Bluebeam's Chambers agreed, and said the lessons learned through prior experience of digitisation, along with efficiency growth, would hopefully play their part. "If you look at a contract nowadays, there's probably nothing in there about the net zero, who 'owns' it, who's responsible for it. What's the litigation background on that? Because it's not built into the contracts currently."
Meanwhile, assessments around what to do with a building once it has outlived its useful purpose – knock it down and rebuild, or retain and renovate – should be part of any carbon calculation process, suggested Building's Lane. Responding to this point Richard Powell, partner at consultant Alinea, said clients of his firm were looking at this as a key criteria.
"They've got an existing asset, which may not be performing as efficiently as a new-build asset, but the carbon factor of a rebuild versus refurbishment … is actually a much more significant consideration now than it would have been many years ago."
How do we start making it economical to get a city-scale digital twin in order to start targeting which buildings to start renovating?

Matt Wheelis, Nemetschek
Powell also said his firm was looking into carbon benchmarking and he would like to think this data would be shared, "with the supply chain being intrinsic to that as well. It's vital that it is shared, in terms of consistency of data and advice."
That data should be transparent and shared was certainly an important consideration, said AHMM's Robertson. The LETI numbers were often a "stretch and difficult to meet", he said. "We need to share data openly, transparently and without judgment across the industry, to share methodologies for [hitting them], because we're not going to solve this on our own."
Another aspect around information sharing was that clients had to be willing to accept failure, Robertson said. "Whatever the reason [for our failure to hit certain carbon targets] is … our clients can take an informed decision about why we're not hitting those targets.
"But then they need to be mature enough to share that widely and say, 'In order to get down to these numbers, we have to do all this other stuff that we didn't do because we didn't think market would take it.'
"They need to say to the rest of the industry, 'Look, here's this information, take it and develop it, and pass the baton on to other people'."
Nemetschek vice president of industry strategy Matt Wheelis said: "We can talk about digital twin systems and new buildings, which is an area where you can have a model at handover and soft landing or you can have some kind of a verifiable model at that point.
"But how do we start making it economical to get a city-scale digital twin in order to start targeting which buildings to start renovating? Because the moment you start renovating a building, trying to save energy, you're releasing carbon in the demolition and you're consuming carbon in the new parts."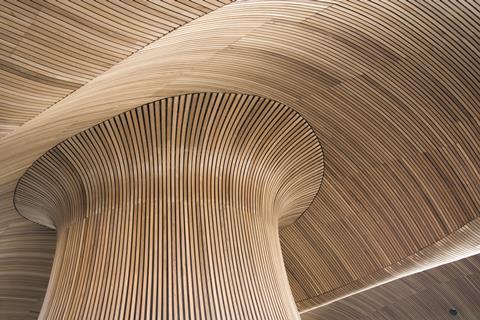 There was also a whole culture issue which needed to be addressed, according to Melanie Robinson, project manager at the BIM Academy, one that fed into both digital ways of working and sustainability. "I believe the two go hand in hand. But I think we've just got a lot of work to do to feed that down the supply chain regarding why this is important. Not only from a sustainability point of view, but from a pure information availability one."
The accuracy – or inaccuracy – of the data could be an issue, especially if a client made a decision based on suspect numbers, according to Alinea's Powell. "When we're using models for cost advice, we can harvest quantities from architects' or MEP structured models, but we will always own that quantification advice, because we would test it internally first, before advising the client.
"With carbon, because it's potentially supply chain driven, it's quite difficult for us to take on that kind of responsibility. It doesn't really feel right."
Meanwhile, Bluebeam's Chambers was optimistic about the sector's ability to make progress towards the mandated target of net zero by 2050, since it had taken BIM on board, albeit after some initial reluctance.
"Folks are going to realise very quickly that they have to get onto this, that they have to jump on it sooner rather than later. There's no way they can wait until 2045 to say, 'All right, I'm gonna start to think about net zero'.".
Rating systems
The deadline of 2050 is just one aspect. Whole-life carbon calculations, as laid out in the New London Plan, could be the first step in a move towards legislation around whole-life carbon modelling, suggested Building's Lane.
Hoare Lea's Macklin, while he thought regulation was inevitable, pointed to the Australian National Australian Built Environment Rating System (Nabors), recently introduced into the UK, which rates buildings on their environmental credentials via a star system. In many cases potential clients – such as government departments – stipulated that if the building wasn't going to achieve five stars, it simply wouldn't get developed, he said.
Macklin also said some form of digital passport could be applied to an environmentally sound building, one that was "retained and maintained with the building and was reported on each year, as part of some sort of government regulation".
I'm hoping that every technology we add is an extra weapon that can be used to combat the carbon issues that we have today."

Andrew Pratt, WSP
Despite some landlords paying scant regard to reducing energy use in their buildings, the demand for assets that fulfilled an ambitious environmental brief would only increase, said Robert Bird Group's Edmonds, as companies responded to the desire of staff to work in open, airy, well-ventilated, energy-efficient workspaces that were digitally enabled and flexible.
"Our task groups look at that, and they tend to be the younger generation that are coming through the business and want to see more of those kind of environmentally friendly features and sustainable features in buildings."
As the meeting concluded, WSP's Pratt said he wanted to end on a positive note. "When I first joined this industry 20 years ago, the tech was minimal. We had drawing boards, fax machines, paper copies and envelopes and franking machines.
"Now we can work in a 3D environment, online. I can go onto a website, pick up my BIM 360 model, and it all works fine. I'm hoping that every technology we add is an extra weapon that can be used to combat the carbon issues that we have today."
Round the virtual table
James Chambers, regional director UKI at Bluebeam
Kathryn Donald, digital design leader at Max Fordham
Alex Edmonds, associate director at Robert Bird Group
Debbie Hobbs, group director for sustainable business at ISG
Roger Macklin, associate director at Hoare Lea
Richard Powell, partner in Alinea Consulting
Andrew Pratt, associate director for structures at WSP
Craig Robertson, associate and head of sustainability at Allford Hall Monaghan Morris
Melanie Robinson, project manager at BIM Academy
Matt Wheelis, vice president for industry strategy at Nemetschek
Roundtable chair: Thomas Lane, group technical editor, Building magazine