It's important we examine the basis of key construction challenges, writes Disperse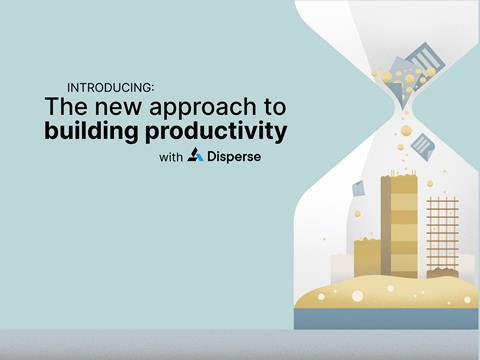 It's time to take a deeper and more comprehensive look at construction's productivity challenges.
Society's demands have become more nuanced than just "build bigger". We want greener, more functionally suited for a wide diversity of needs, and more imaginative in their design.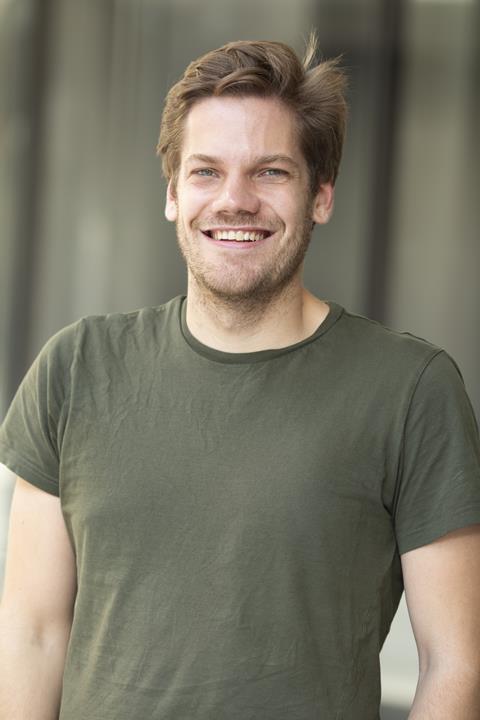 An accelerated pace of societal change needs means that construction must be done in a more dynamic way. Consider how people work now compared to generations past. Consider the advent of coworking spaces - and then the implications of a surprise global pandemic on those spaces.
Under incredible pressure, with the odds stacked against it in an environment vulnerable to disruption by everything from weather to politics and economic conditions, our industry has almost never shied away from a challenge.
But the pressures are mounting - and combining.
As investments and complexity skyrocket, and sourcing talent becomes increasingly difficult, we must contend with many of the same glaring inefficiencies which have long plagued us.
Technology is finally catching up to effectively address these issues, and builders must become as unafraid of technology as they are of challenges in the field. Operators who fail to do so will be ill-equipped to withstand increased pressures.
But who and what is Disperse?
But, before we get into our approach and how it's helping industry leaders like Mace, Canary Wharf Contractors and Lodha to achieve meaningful productivity gains, a few words about who we are and why we care.
We are Disperse. Three years ago we set out on a mission to help the leading construction companies develop realistic solutions to real-world problems, and today today we're leading the charge on rethinking and elevating building productivity.
We are technologists, but first and foremost we are builders; our CEO and founder, Felix Neufeld, grew up on construction sites in a big family of builders. For more than a decade he has believed in a vision of what a brighter future could look like for the building industry.
Felix's vision became our journey, and along the way he pulled onboard some of the best and brightest in fields like machine learning, construction, architecture, data processing and business strategy. Today we're a team of more than a hundred, backed by Northzone, one of the top venture capital firms globally.
Now, back to building
Alongside our customers, we've studied three levels of root challenges that constrain construction output:
Systemic, industry-wide productivity challenges which tie us to the status quo

Organisational productivity challenges that affect business units from HQ to project-level, and which limit construction businesses from achieving economies of scale

Personal productivity challenges that bog down staff at an individual level, slowing down delivery and making the job less satisfying
Each of these could individually pose a threat to a construction business, but in concert they have created a productivity problem greater than the sum of its parts.
If the following feels familiar, we encourage you to visit www.buildingproductivity.com and download our free white paper entitled "The new approach to Building Productivity" in which we dive deeper - and elaborate on our approach to solving them.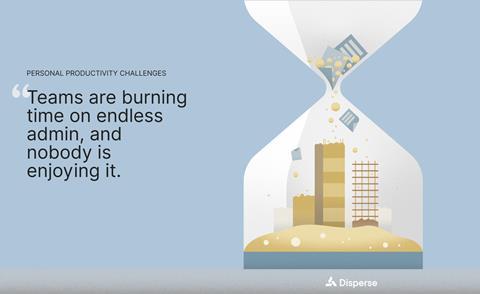 Systemic, industry-wide productivity challenges: there is no reliable shared truth
Because construction works are an everyday sight for billions of people worldwide, outsiders have a tendency to assume there is something routine about them, as if completing a building is like putting together an extra-large piece of flat-pack furniture.
If you're an industry insider, you know that large scale construction projects are a symphony of moving parts which require masterful management and non-stop heroic efforts of problem-solving.
Complexity, variability and interdependence are so endemic to our industry that they've become part of the status quo. They are often avoided or treated as conditions whose implications can't be planned for in advance.
The end result is an ecosystem so carefully balanced that even a moderate disruption can have enormous knock-on consequences.
The impact of escalating problems in this ecosystem is all too familiar to project leadership. Rework, personnel shortages and material supply disruptions have always played havoc with programmes.
These disruptions are "unknown-unknowns": we don't know when or if they're going to happen, how they will manifest or what their effects will be. The volume and impact of these cumulative changes is often what determines productivity, and their ripple effects are what project leadership loses sleep over.
These issues start with measurement & reporting problems at the project level.
Flawed measurement at a project level damages synchronicity of the plan versus the reality of the as-is, which in turn causes more issues. Over time, the aggregate of these creates a vicious cycle that severely constrains the effectiveness with which a team can respond to changing circumstances.
There is no reliable shared truth from which all levels of management can operate. Without a holistic, integrated data processing system, the challenges cannot be surmounted and the status quo remains.
Organisational productivity challenges: construction companies struggle to create an osmosis of operational data between project teams and central business units
When businesses reliably increase output and lower costs, they accelerate overall growth and create a competitive advantage in the market. In most industries, larger businesses benefit from more predictable and specialised processes that are continuously improved, which leads to bigger savings and lower unit costs. This is called "economies of scale."
Despite a wide range of potential pitfalls on any one project, the best project leaders in the business keep delivering incredible additions to our built environment. This is why talent retention is such a focus within the industry.
But, the over-reliance on individuals means that the valuable best practices and ways of working can be lost when teams part ways to move on to the next job. Builders are struggling to aggregate and circulate a consistent set of best practices to create widespread systems of staff development within their ranks.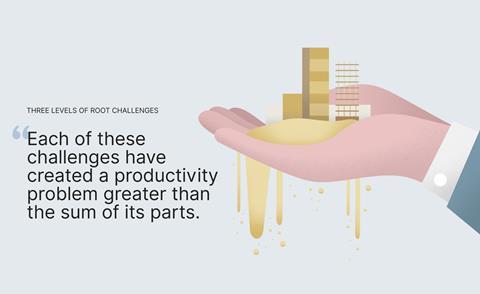 If firms do not actively work to build a body of knowledge and share information at all levels, they inject risk into their processes. Project output becomes dependent upon individuals rather than systems and entire companies become dependent on the cash flow of a handful of projects, putting entire businesses at risk. The system has become a house of cards.
Business leaders simply lack data structures to drive meaningful transformation or lend support to ongoing operations.
Elevating and transforming ways of working in any large scale organisation requires a data-driven approach to collect, structure and share project and enterprise-level data.
Construction companies have struggled to create an osmosis of operational data between project teams and central business units that could remove uncertainty from material and labour supply chains and identify trends based on data. Each project in a portfolio comes with a degree of unpredictability which accumulates, bit by bit, and eventually the aggregate instability and lack of standardisation makes effective controls and risk management extremely difficult.
Builders have yet to develop an effective and reliable approach for delivering reliable information to decision makers without creating delays, inconsistencies and a surplus of overhead for site-teams and business units.
Personal productivity challenges: valuable time & human capability are misused on admin
People are at the heart of our industry. Of all the ways to drive building productivity in the construction business, the most impactful is to empower the men and women of the industry to do the most meaningful, enjoyable and exciting work.
The most immediate opportunities for productivity improvements happen at the project level. They stem from giving people a chance to do what they do best rather than forcing them to do something that human brain power isn't suited for, and which they do not enjoy.
On building projects, admin devours everyone's time up to the very top levels of management. Teams are burning time on endless admin, and nobody is enjoying it.
Anybody in this industry will tell you: nobody becomes a builder because they love spending most of their days filling in reports and searching for the information required to get on with making decisions, but that's what happens.
Those lost hours are inefficient and they are expensive, but there is an even greater threat: these are not the kind of activities which motivate project teams or play to their core strengths.
The parts of a job that a team enjoys the least will always become the activities which are carried out the least effectively, and project teams are made up of people who enjoy problem solving, finding creative solutions and directing activity - not people who take pleasure in putting numbers into boxes.
This weakness is why the flow of information from project sites is such a structural problem and why business improvement initiatives frequently fail: data coming from the sites is mostly unreliable.
Taking the next step into building productivity
If the challenges, focuses and imperatives outlined above all make sense to you - good. You're in good company, and it's time to take the first step into building productivity.
Three years ago we set out on a mission to help the leading construction companies develop realistic solutions to real-world problems, and today we're leading the charge on rethinking and elevating building productivity by way of our purpose-built system.
To learn more, we encourage you to download our free white-paper at www.buildingproductivity.com, or to reach out for a personalised demo at contact@disperse.io