Life sciences is a fast expanding and evolving sector. Building, together with international consultant Linesight, gathered industry experts to discuss the sector's challenges and how innovation and technology can help the construction industry best deliver life sciences projects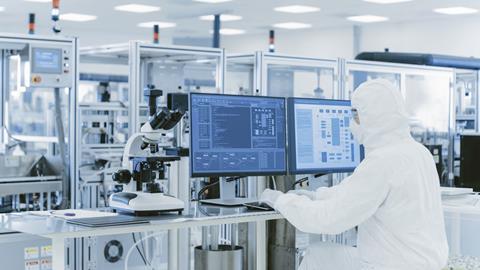 The UK's world-leading life sciences industry produces medical technology, diagnostics and digital tools, as well as pharmaceutical products for consumer health in facilities up and down the country.
Worth in excess of £70bn a year, the sector employs nearly a quarter of a million people, including scientists, researchers and clinicians.
Such is the industry's reputation that it's a magnet for significant inward investment. As recently as last month Abu Dhabi-based investment fund Mubadala announced it would pump £800m into the sector, backed by a further £200m from the UK government.
Meanwhile the covid pandemic has thrown the importance of life sciences into sharp focus, and UK construction has been working tirelessly to deliver facilities and manufacturing hubs that develop and manufacture the drugs and other medical paraphernalia that are crucial to the nation's health and wellbeing.
Building, with international consultant Linesight, gathered a group of industry experts to discuss developments in the life sciences arena, evolving R&D and manufacturing facilities, how the construction sector can deliver projects using innovation and technology, and the challenges the life sciences industry faces.
A sector in vibrant health
Chairing the meeting, Building's technical editor Thomas Lane kicked off proceedings by asking for views around the table on the current state of play in the life sciences sector.
Michael Riordan, Linesight's UK managing director, believed the industry was in vibrant health and remained an essential part of the UK economy, in spite of Brexit. "Life sciences is one of those key industries that helps us take advantage of some of the opportunities arising from Brexit, but also helps us recover from the damage to the economy caused by the pandemic."
With concerns around the delivery of pharmaceutical products due to both Brexit and covid, Steve Townsend, project controls director at GSK, wanted to offer reassurance around surety of delivery.
Much of the business has continued as normal. But surety of delivery is really important to us

Steve Townsend, GSK
"Yes, covid has impacted this, but it will become less so going forward. Much of the business has continued as normal. But surety of delivery is really important to us," he said.
Covid has taught the world about the fragility of the global supply chain, according to Antonio Crincoli, head of global engineering at Viatris. "In my world, it came down to: what was [previously] a distributed supply chain across the globe has now became very localised.
"So where you had manufacturing that was centralised in, say, certain parts of the world like China and India, now Europe and the US are all looking to manufacture locally; that's driven entirely different perspective on economics and availability."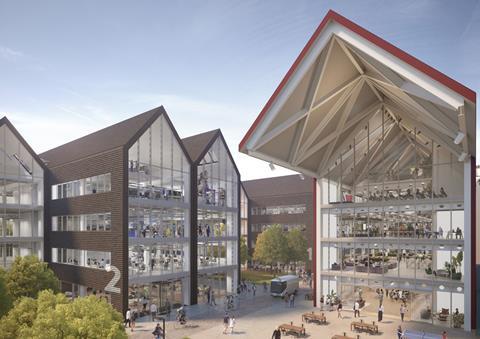 A shortage of space
While commercial property had taken a hit in recent times, life sciences remained relatively unscathed, Linesight's Riordan said. "Laboratory vacancy rates remain very low both in Oxford and in Cambridge. So then you'll use secondary areas in and around Edinburgh, Glasgow, Manchester. Tier two areas like Birmingham and Liverpool are now attracting a lot of interest from venture capital. This shows huge confidence in the market, even post covid, and is very positive for the industry's future."
Meanwhile, Peter Dudley, a director at architect Scott Tallon Walker, believed there would be an increasing relationship between industry and university in terms of research.
"I see university campuses becoming far more industry orientated as they develop. Rather than the universities being primarily government institutions, they will become amalgamated with industry, creating personalised and smaller sector demand."
Life sciences is one of those key industries that helps us take advantage of some of the opportunities arising from Brexit, but also helps us recover from the damage to the economy caused by the pandemic

Michael Riordan, Linesight
As well as this more responsive approach, the meeting participants acknowledged that clusters of manufacturing near hospitals or other points of demand might also become a trend within the life sciences sector.
Building requirements
Building's Tom Lane then asked about the specific requirements of a life sciences building.
GSK's Townsend chipped in, suggesting it could be a facility that had "an in-built agility to match what's happening in the real world". It could be a new building, or a suitably repurposed one, he added. Either way, it had to be flexible, he stressed.
Viatris's Crincoli said that where once high-throughput manufacturing facilities used to be custom made, today smaller buildings are being delivered. "We're scaling out instead of scaling up, using much smaller equipment that is semi-automated, based around modules, being able to use plug-and-play equipment that can be adapted for use anywhere."
Delivery challenges
The issue of delivery then arose, and the challenges of getting planning for a life sciences facility. Kevin Burdett, EMEA director of design at Integrated Project Services, said planning was rarely an issue. "With the jobs created and these facilities saving lives, the potential for these schemes is easy to spot. The important thing for the clients is getting the drugs out to market as quickly as possible, as is the process and making sure the equipment is right."
Budget considerations for life sciences buildings are hugely important, but Clare Emery, sector lead for education, science and research at Laing O'Rourke, said that while in the past such buildings would have been highly specified, newcomers to the market will be more flexible.
I think we're going to see a different type of product coming through, one that is less highly specified

Clare Emery, Laing O'Rourke
"I think we're going to see a different type of product coming through, one that is less highly specified. There may be opportunities for the standardisation of solutions to maximise the benefits of modern methods of construction (MMC) and using pre-manufactured products."
As far as IPS's Burdett was concerned, the focus would be around the internal specification, rather than the shell. "The external building can be a shed or warehouse. The cleanroom environment is what clients are most interested in. More and more, we're seeing clients buy a big warehouse space and then look to repurpose that into a manufacturing facility for a drug product."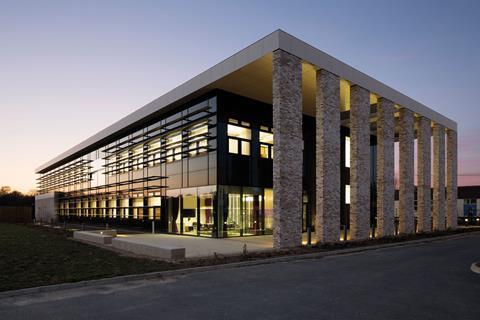 MMC
This prompted a discussion around the scope of MMC for the life sciences sector.
While many facilities were understandably bespoke, there were opportunities to design, develop and deliver solutions using MMC, Laing O'Rourke's Emery said. "We've been able to engage very early on in a project, the beauty of that being everything gets planned out to suit a slick and swift delivery period. The payback is the certainty and delivery period, which is quicker."
Linesight associate director Marion Close agreed. "The more people can be involved early on in the project, the easier it is to get a structure in place that's both workable and achievable. And you can have more predictability around delivery."
Patrick Morrison, pre-contract manager and health sector lead for building services group NG Bailey, said that his firm was often brought in early under the project delivery model, which allowed him to demonstrate the benefits of MMC and share those benefits from an early stage.
"We can build parts of the structure offsite, integrated with the MEP, and deliver sections of the building to the site, ready to go."
We can build parts of the structure offsite, integrated with the MEP, and deliver sections of the building to the site, ready to go

Patrick Morrison, NG Bailey
Morrison went on: "There's a real focus on fast-track delivery without compromising quality – manufacturing components offsite, where we can still undertake rigorous qualification validation, pre‑qualification, pre-validation, and then delivering high-quality solutions design."
GSK's Townsend said there was a difference between using standard methodologies for design and fabrication, and just turning up on site with a standardised box. Being able to de-risk a project in a factory environment shouldn't be underestimated, he argued.
However, there was a note of caution around modular solutions. IPS managing director Daryn Jenkins said sometimes a project didn't warrant them.
"If you are looking at developing a flexible and adaptable space, it might be better to stick build that and use modular for a plant room area in a manufacturing facility."
Experience of implementing projects definitely comes into play, he said. "It really is a case of picking the right solution for the right situation."
Benchmarking data for life sciences clients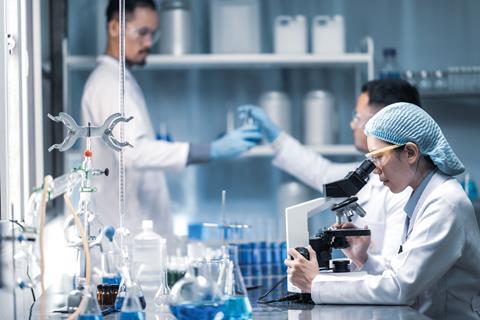 As part of the roundtable, Linesight's Nigel Barnes outlined the firm's project to benchmark data for clients in the life sciences sector.
The rationale for such data benchmarking was to collate and analyse schedule and cost data to improve project planning and delivery, Barnes said. "We want to support clients at the outset in getting as good an estimate as possible, so that the job, if approved, can go ahead on the basis of that 'best estimate' information."
Once a design is completed and costed, the next task was how it compared against its peers. "Higher or lower? Where does it sit?" Linesight is mindful of its role as custodian of the information that clients need in order to make informed decisions regarding a project, Barnes said. "They need to access that information speedily to be able to make a call and get the project started," he added.
Linesight already has project data rolling in, "and it's starting to show data points in areas such as building costs, equipment costs, owners' costs, and so on", Barnes noted. These data sets could be broken down into comparatives in order to help with decision-making.
"The quick wins we're seeing are around how using and sharing the data subsequently leads to best practice within design and construction methodologies," he added.
Responses
Steve Townsend, GSK: "As a client, you need organisations like Linesight to collate and analyse that data, to understand the methodologies that are driving factors such as price and delivery times. Data can be time-sensitive, yet it can also have a shelf life for future schemes.
"Why waste all that knowledge and learning taken from the previous projects, which probably have a lifecycle of somewhere between three to five years? It's important to capture that information for future use."
Clare Emery, Laing O'Rourke: "It's this data collection and analysis which is going to drive us as a construction industry towards delivering better, faster, greener solutions. "
Antonio Crincoli, Viatris: "Every leader in our industry is looking for benchmark data. They want to know what our peers are doing and why. We think about benchmarking as costs, but it's not just cost. It's about what's different; that's what's in the details. Is it the innovation? Is it the schedule? Is it the delivery method? That's really what benchmarking tells you."
Round the virtual table
Nigel Barnes, director of life sciences, EMEA, Linesight
Michael Riordan, UK managing director, Linesight
Marion Close, associate director (scheduling), Linesight
Steve Townsend, head of project controls for global capital projects, GSK
Daryn Jenkins, managing director, IPS-Integrated Project Services
Kevin Burdett, director of design, EMEA region, IPS-Integrated Project Services
Peter Dudley, director, Scott Tallon Walker
Antonio Crincoli, head of global engineering IOAO division, Viatris, and chair of the ISPE Engineering Council
Clare Emery, sector lead for education, science and research, Laing O'Rourke
Patrick Morrison, pre-contract manager and health sector lead, NG Bailey
Roundtable chair: Thomas Lane, group technical editor, Building magazine