Be prepared for the upcoming regulation changes
Electric vehicles are here
The UK government has set legally binding targets to cut its greenhouse gas emissions (GHG) to net zero by 2050 and a major contributor in achieving this target is the ban on new diesel and petrol cars by 2030 - the 'Road to Zero' transport strategy.
The electric car market is growing quickly, with more than 760,000 fully electric cars and plug-in hybrids (PHEV's) on UK roads at the end of April 2021¹, and with 18 million electric vehicles expected to be on the road in the UK by 2030².
EV charging will be a must, and currently 62% of EV owners charge their vehicles at home, making home charging by far the biggest growth market for EV chargers due to the low fuel costs and the convenience of charging your vehicle overnight.
Car manufacturers are now ramping up their electric car production and many major companies have announced they're going totally electric by 2030, including Jaguar, Volvo and Honda. It's even inspired Volkswagen to bring back its iconic VW campervan – to be reborn with a new all-electric version due for release in 2022.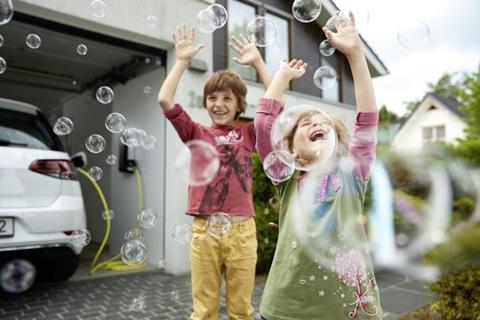 Getting the UK EV-ready
Getting an electric car may be one thing; preparing to power it is another. Drivers on the road in the UK can now power up their car at one of the growing list of charging points. However, having their own charging point at home is ultimately the most convenient way to charge. As most car journeys in the UK have gone down on average from 25 miles to 8 miles since the pandemic struck, it's far easier for most EV owners to charge up their car whenever they need to, using their own electricity.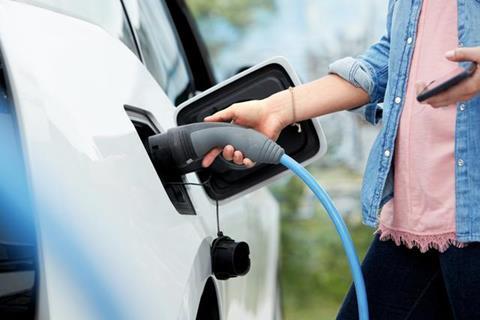 The E.ON solution for developers
Building houses that are EV-ready, not only makes the house more appealing to buy, but helps contribute to reducing emissions and the 'road-to-zero' strategy.
At E.ON, we have considered and involved all parties in the process of bringing the 'eClick' and full suite of EV chargers to market, carefully selecting market leading solutions for most scenarios to cover all planning conditions and future building regulations. So we can offer a complete range from 7kW - 350kW, for home charging, communal charging, public charging, commercial charging and new build.
For new build, we have two innovative solutions to choose from;
'eBox' –the full EV charger kit, including the base installed on the wall and the EV charging unit.
'eClick' - the EV charger box only, installed to an outside wall during the build
'eClick' is the preferred option for developers of new builds, as it successfully meets their needs and that of the end user.
A guide to eClick for the home-owner can be found here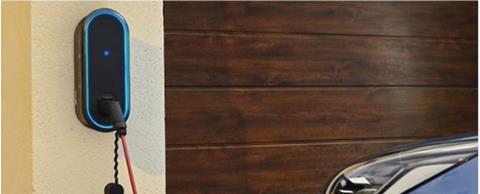 How 'eClick works'
'eClick' is a unique and innovative product for the building sector, brought to market specifically to meet the demand of new build developers. It is very competitively priced per house plot and prices are kept low by offering it as a supply-only solution. Yet it is so simple to install and allows developers to sell their sites with little or no cost accrued from the distribution network operator's (DNO's).
It is a quality and reliable product that allows the developer to install each unit onto a house during the build, meaning a full EV charging solution is not left until the house is sold. Once a new owner is ready for an electric car, then they have the option to purchase the 'ebox'. This empowers the end-user (the homeowner) to activate the EV charging solution when they need to, and because the product is modular, homeowners have a choice of EV charger, whereas other providers only offer full solutions from day one. It is a smart solution and can connect to the home internet. We also offer a 3-year warranty, with the option to upgrade, which starts when the end user buys the eBox, not when the eClick is fitted.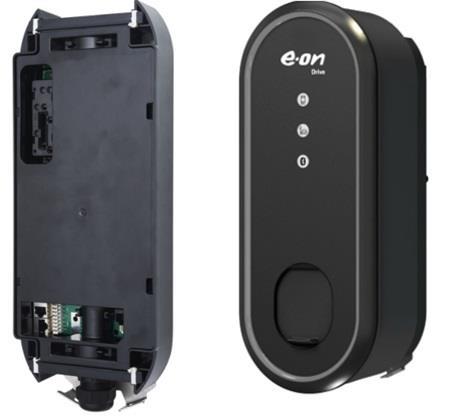 A product summary sheet for eClick can be found here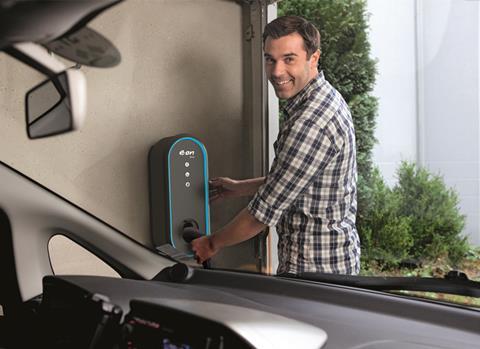 What E.ON offer?
Our expertise across the energy sector means we are ideally placed to support businesses from the public sector through to the building sector with our EV charging infrastructure needs. From problem solving to consultancy, we create EV charge points for the future in electric vehicles, including both commercial and home-charging. See how we're helping home-owners charge their electric vehicles at home
Tailored
The 'eClick' was designed in consultation with the building sector, with new build developers in mind. We offer a full suite of EV chargers and can design an e-mobility solution based on your business and customer needs.
Smart
Our charging points have the latest technology and therefore are able to connect and showcase themselves on our exclusive E.ON Drive app. The app allows users to monitor, control and pay for their usage by the comfort of their phone. So, whether the end-user is at home or elsewhere, they'll feel confident in using one of our chargers.
Reliable
Our support team is on hand to make sure that all our charging points are always operating efficiently. That includes data-based predictive maintenance, running diagnostics remotely and installing any upgrades.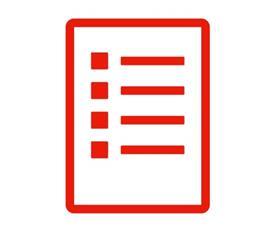 Future proofed
Our chargers are fitted to the industry standard and come with a parts and labour warranty for added peace of mind. Meaning you can be assured that your investment is protected.
The future is here
Ten years ago, not all homes were connected to the internet or Wi-Fi, but today it's an expectation that every home be built or have access to internet points or cable. EV charging is at the same stage today as Wi-Fi was then, and soon property websites will allow customers to filter homes by those with EV charging capability.
"eClick is an innovative and practical product, which is pretty unique in the building sector. It meets current and future planning needs, and by consulting closely with Developers, we have created a product that is cost-effective, simple to integrate into their properties and perfect for the end-user."

Justin Savage, E.ON's technical sales manager for EV
Savage spoke at the building.co.uk webinar in March this year, along with Matt Croucher, zero emission mobility lead at WSP and Simon Swan, director of future mobility at Acardis, to talk about the future of electric vehicles and what it will mean for the construction industry. Watch the on-demand video here:
We're heading in the same direction as you
Electric vehicles are just one example of how our lives are being transformed by new technologies. An electric future means a renewable one, helping improve lives and the environment. It's a journey we're committed to at E.ON; a changing world with different needs means we're evolving our energy products and solutions to help all businesses, including developers and ultimately the end-users.