The need for natural light has only increased over the past 12 months
Architecture in the form of daylight design can have a massively influential impact on our lives. The need to create healthier, brighter indoor spaces with greater access to daylight and the outdoors has become even more prevalent over the past year.
An occupant's comfort and wellbeing were already becoming key considerations within building design, but recent events only highlight this need further for all future commercial building projects.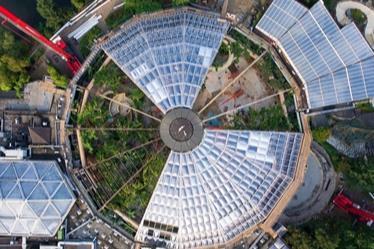 Of course, environmental impact and energy usage of our spaces also remain high on the priority list for most building owners, which is why it is crucial to ensure solutions specified meet performance criteria while improving occupant wellbeing.
For daylighting specification there is no "one size fits all" approach, as each commercial project will be unique in its performance, aesthetic and scope of requirements.
A successful building design is one that should therefore provide a connection with the outdoors, maintain occupant comfort, while of course meeting compliance, the energy needs of the building and create an environment fit for the workspace it is intended for.
The right specification of rooflights for any commercial project is, therefore, crucial to create healthier buildings that meet the needs of the project, while also creating a structure that meets the vision of the designer or architect.
VELUX Commercial: Bringing you choice and freedom
VELUX Commercial's greater offering of daylight solutions allows complete flexibility for daylight and natural ventilation provision whilst also fulfilling compliance and commercial needs such as, smoke and heat exhaust ventilation (SHEV), as well as roof access.
Our wide range of rooflight systems provide new-build and refurbishment solutions for every type of commercial building, and include modular skylights, glass rooflight systems, polycarbonate dome rooflights, and continuous barrel vault rooflights.
CONTINUOUS ROOFLIGHTS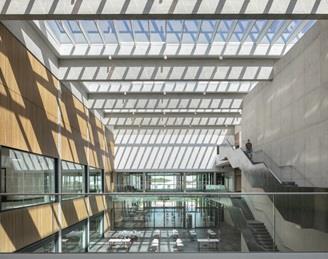 Continuous rooflight solutions can meet the demands of commercial or industrial buildings, including warehouses, logistics centres, production facilities and sports and leisure facilities. Suitable for flat and sloping roofs, they are available in polycarbonate plastic for a durable, lightweight, and cost-effective alternative to glass.
GLASS ROOF SYSTEMS
Glass roof systems can be used to create attractive rooflights in an array of shapes and sizes. They are the ideal choice for high specification roof glazing that looks beautiful and provides natural daylighting, fresh air and smoke and heat ventilation. Glass roof systems offer complete flexibility, and options can be configured to meet the most demanding design requirements.
DOME AND FLAT GLASS ROOFLIGHTS
Dome and flat glass rooflights combine quality, performance, and aesthetics, with solutions also available for maintenance access and ventilation. Designed for both function and appearance, they provide single sources of daylight and are available in a wide range of shapes and sizes to suit a variety of applications.
VELUX Commercial: More than just daylight solutions
Offering a full range of daylight solutions that bring a project to life, whilst helping to achieve occupant wellbeing and healthier commercial spaces, is only a small part of the complete package that VELUX Commercial is able to offer to architects and designers.
VELUX Daylight Visualizer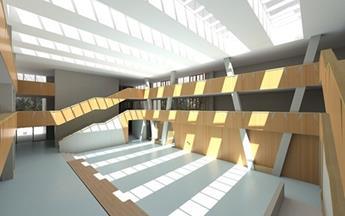 Where high levels of daylight are required in a public, industrial, or commercial building, daylight design should always be assessed at an early stage when it is easiest to make changes.
By introducing daylight design at the early stages of a project, roof glazing solutions can be specified in the right size and quantity from the outset. The project therefore benefits, from greater certainty, and the glazing can be priced with confidence. The VELUX Daylight Visualizer has been designed with architects in mind and to help provide this valuable insight from the off.
The free to use daylight simulation tool aids in predicting and documenting daylight levels as well as the appearance of a space prior to realisation of the building design. The Daylight Visualizer goes above and beyond the more commonly used 3D visualisation programs by accurately simulating and quantifying daylight levels in interiors.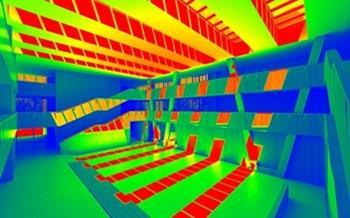 The Daylight Visualizer can:
Calculate daylight factor levels
Evaluate requirements for daylight provisions in the new European Standard for Daylight in Buildings - EN 17037
Create or import 3D models
Perform luminance and illuminance simulations under different CIE sky conditions
VELUX Commercial: Bringing light to life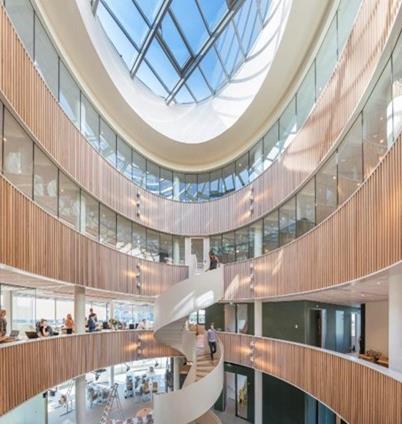 Our full range of daylight solutions teamed with our expertise, knowledge and support offering make VELUX Commercial your preferred partner in providing the right daylighting and ventilation solutions to meet your specific commercial needs.
On-site support including roof surveys are available to assess the existing roof for refurbishment projects, while further specification support comes in the form of our accessible technical documentation, providing complete product details for all VELUX Commercial daylighting and ventilation solutions.
Our technical experts are also available to answer your project queries. We offer CPD sessions to keep you up-to-date with current regulations, standards and solutions relating to daylighting and ventilation. Our comprehensive range of white papers also explain the benefits of natural light and explore daylight in commercial buildings in more detail.
Read more about the VELUX Commercial global product platform and how we can support you throughout the entire building process by visiting our website here