The bulletin also provides the finished product's subsequent Euroclass reaction-to-fire rating
Insulation manufacturer, ROCKWOOL®, has released a technical bulletin to provide guidance to specifiers, architects and contractors on the use of bonded construction materials, such as insulated upstand boards, and the finished product's subsequent Euroclass reaction-to-fire rating.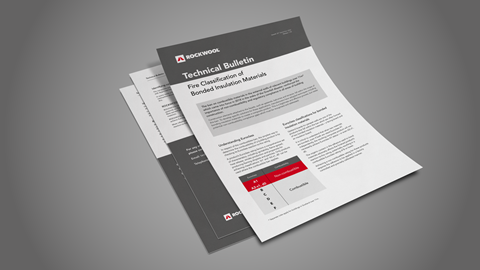 Following the Grenfell disaster, a ban on combustible materials in the external walls of relevant buildings over 18m* came into force in 2018, reinforcing the importance of non-combustibility and regulatory compliance in all areas of building construction.
Construction elements attached to the façade - such as upstands, balconies and terraces - fall within the scope of this ban. However, to develop specific solutions for these applications, some manufacturers have adopted techniques that include the bonding of insulation materials to create a composite board – which raises the potential for an inaccurate reaction-to-fire rating to be claimed on the finished product.
In response, Rockwool has written a technical bulletin to give advice on the use of these composite products, and the potential impact of these on a building's compliance with both Approved Document B (ADB) and the combustible ban (the need to achieve Euroclass A2-s1, d0 or better).
Commenting on the issue, Lisa Stephens, product manager – building envelope at Rockwool UK, says: "Put simply, we're seeing assumptions within the industry that bonding two Euroclass A1 rated materials together results in a composite A1 product, which certainly isn't always the case.
"It's important that we support the industry to understand the importance of designing, specifying and working with products that meet stringent safety ratings. We hope that adding this technical bulletin to our suite of support resources will give valuable advice to a wide range of audiences."
A tested bonded solution
Rockwool Hardrock UB34 is a non-combustible insulation solution designed specifically for parapet walls and upstands on flat roofs. It comprises of a dense 50mm slab of Rockwool
stone wool insulation bonded to a rigid 6mm fibre cement board, and is suitable for use on buildings over 18 metres that are affected by the ban on combustible materials.
Rockwool has ensured that Hardrock UB34 is tested as a finished composite product, and it has proven to achieve Euroclass A2-s1, d0.
More information about Rockwool Hardrock UB34 is accessible through the Flat Roof Resource Hub on the Rockwool website, and its reaction-to-fire certification is available on request.
*In England, Approved Document B provides new guidance on residential buildings over 11m. Separate rules apply for buildings in Scotland over 11m.