The event starts 17 November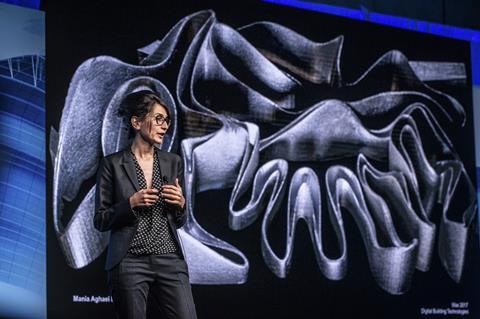 AU 2020 is all about empowering you to explore the new possible—for yourself, your firm, and your industry. Whether you're an architect, engineer, BIM manager, executive, or building owner, AU 2020 is the global digital conference that can help you move ahead. We're excited to offer new ways to learn and explore the technologies and trends shaping the future of building design and engineering. There's no cost to attend, but registration is required, so register now.
Keynotes
Don't miss day one on November 17 featuring the architecture, engineering & construction keynote, along with the general session, to hear about industry trends and pioneering projects from across the globe. How can we improve outcomes by keeping processes digital from start to finish? How can we use AI, computational design, and generative design to design and build better? How can we take materials, labor, and methodologies into account earlier in the process?
Class highlights
Get a sneak peek of the 750+ new AU 2020 classes available on demand starting 17 November. Led by industry professionals and Autodesk experts, these classes will be supported by more than 350 live Q&As starting 18 November, along with live panels and roundtables. While you do need to register for the conference, you don't need to sign up for individual classes. Stay tuned for more information and a schedule of class Q&As.
Look for these and other building design and engineering classes at AU 2020:
Next-Level Visualizations with Autodesk Revit Advanced Materials | Dan Stine
Cinematic Story and Camera Techniques for Architectural Visualization | George Maestri
My First Digital Twin: A Real-Time Rendering Story | David Weir-McCall
Dynamo Isn't Magic but These Tips and Tricks Might Seem Magical | Carl Storms
A Discussion on the Diversity Problem in the AEC Industry | Purvi Irwin
Using Dynamo to Assist with a Solar Study | Fernando Pavon
Connecting People and Algorithms: Generative Design for Informed Decisions | Sofia Malmsten
Using Revit and Dynamo to Assess Embodied Carbon | Kayleigh Houde
Design Technology Leadership: Standards and Processes on Autodesk Products | Ravi Wood
Non-Geeks Guide to Optimizing Daily Workflows with Generative Design | Bascones Recio

Beyond the classroom
AU 2020 will offer a variety of opportunities to learn, connect, and explore beyond the classroom. Here are a few highlights:
Visit the Theater for 15-minute talks from industry visionaries about their work. Building design and engineering professionals may find these of particular interest:
David Weir-McCall will explore architectural digital twins.
Mehdi Nourbakhsh will share work that enables contractors to accelerate the bidding process using artificial intelligence.
Ernesto Pacheco will showcase how designers and clients collaborate using virtual reality at CannonDesign.
Head over to the Answer Bar to get answers to your AutoCAD, Revit, BIM 360, and other product questions or for 1-on-1 technical support.
Join us for the Design Slam, a live showdown between two top designers. Watch them work in back-to-back 30-minute sessions, see how they solve common design problems, listen to live commentary from the moderator, and add your voice to the conversation.
Celebrate the people and processes behind the world's best architecture and engineering projects with the Autodesk Excellence Awards Program.
Connect virtually with peers and likeminded professionals at live meetups featuring facilitated conversations around topics that are transforming how we design, make, and build.
AU 2020 will be an incredible event. We'll have more details as we get closer to the conference. All you have to do now is be sure to register in advance. We'll see you there.