Every year these 10 men greenlight more than 18,000 projects worth north of £6bn. Katie Puckett got them together to find out what impresses and depresses them about construction firms, and on pages 58-59 we list the top 100 clients in the UK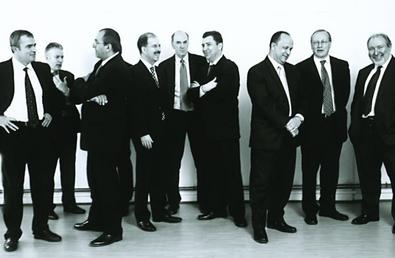 AIRPORTS
Roger Bayliss, construction director, British Airport Authority
Chart position now: 3
Last year: 1
Work procured in 2004: £1.3bn
Roger Bayliss may preside over an enormous £1.3bn a year construction budget, but he doesn't want to throw his weight around. "We try to avoid the master-servant relationship," he says. "It should be a collaborative process, no-holds barred."
BAA favours long-term relationships with suppliers and has a number of framework deals set up. In his last job, for the Mass Transit Railway Company in Hong Kong, Bayliss was "partnering champion" and the experience has left him with a deep-seated conviction that collaborative working is the way to get things done. "The challenge is in the job, not in each other. It's not just the fluffy bunny stuff, you've got to have a proper commercial element, sharing the risks and the gains," he says.
Roger Bayliss isn't responsible for BAA's most renowned development at Heathrow Terminal 5, but he has plenty on his plate nonetheless at the company's seven UK airports. He's supervising a £450m project preparing Terminal 3 for the advent of the A380 and at Gatwick, he's just about to open a £110m bridge over the taxiway – only the second of its kind in the world. Bayliss demonstrates suitable enthusiasm for the prospect – "you're going to be able to walk over as 747s are going underneath – it's very exciting" – but denies he was ever a plane-spotter. "I was interested, but I was never an anorak."
Impressed by … innovative ideas on delivering projects
No time for … tension between subcontractors
Worries that … not everyone on site is conscious enough of their safety
WATER
Andy Wright, principal project manager, Thames Water
Chart position: 6 (new entry)
Work procured in 2004: £616m
Andy Wright is looking for a fight. Well, more a frank exchange of views. "We don't want someone who goes along with everything we say, or accepts it without question – we don't know all the answers. We may be paying the bill, but we want them to be an equal partner."
In 2004, Thames Water spent £616m over 1500 different projects, ranging from £100k to £100m. There's no end to the work though. Wright says it has just had a funding allocation of £3.1bn for the next five years, and he and his team have selected a list of partners for all but the smallest and largest projects until 2010. This was a very intensive process that involved 12 of them spending a day with each shortlisted firm at its offices and sussing out whether the chemistry was right. "We asked to meet the people we'd be working with, not the sales people you never see again. We wanted to know if they could talk about real situations rather than just make promises – we don't expect an easy ride."
But when it comes to working with Thames Water's customers – the general public – Wright is more concerned about conflict resolution. "It can be a high-pressure environment if you come across people who might have been held up by the works or had their driveway blocked, but there's no excuse for being rude to anyone."
Impressed by … working with the same people again and again
No time for … slack approaches to health and safety
Worries about … disrupting the public
DRUGS
Tony Vasishta, director of retail property services, Boots the chemist
Chart position: 32
Last year: 28
Work procured in 2004: £129m
Tony Vasishta doesn't want to talk about construction. "If we're both holding up our ends of the bargain, when we meet we can just get to know each other."
Not that he hasn't got much to discuss – Boots spent £129m on 600 jobs last year. Relationships are important to Vasishta, though he doesn't believe in formal framework agreements. "I think you benefit from informality. If you have a strict agreement it becomes quite adversarial and contractual."
Nearly two-thirds of Boots' spend was on refits of its existing 1600 properties, but it also boasts big projects – as well as an aggressive expansion into out-of-town parks, Boots opened a four-floor £12m store on London's Oxford Street last week.
Vasishta is looking for contractors who are "obsessed with client service" and who know the world of retail inside out – his biggest turn-off is inflexible firms who can't adapt to the needs of his very demanding industry. "This is a fast-moving business – there aren't many where you can earn millions in a few weeks. Cashflow is high, but we need contractors to work on lower margins."
Impressed by … zero defects
No time for … being let down
Worries that … "everything we do is exposed to the general public – it's a big risk"
ACCOMMODATION
Phil Jones, regional project director, Unite Group
Chart position now: 31
Last year: 24
Work procured in 2004: £130m
If your kids go to university, helping them to move is an exhausting business. Phil Jones knows this better than most – last September, he spent a weekend doing just that, but they weren't his children, they were the 1600 new tenants of a couple of Unite's larger student accommodation developments. "I spent the weekend carrying suitcases – it was one of the most exhausting days I've ever had at the office," he says.
Nevertheless, Jones counts that kind of sharp-end interaction with Unite's customers among his best experiences on the job, and he wants a contractor that'll be right there next to him and his team. Unite's developments range from 300 to 1000 beds and it will complete 10 schemes this year, with a total value of £130m. "We're looking for people who are prepared to put in the same sort of commitment as we are."
It's not just a time commitment Jones wants. In an effort to cut escalating build costs, in 2002 Unite invested £10m in a factory to make bedroom modules and it wants contractors who will not only embrace modern methods of construction, but invest equally upfront and share the savings. "We've got to see the benefits to the bottom line, not stuffed up contractors' jumpers."
Impressed by … contractors who understand how to work around students
No time for … people who pass the buck
Worries about … getting developments finished for the start of term
UNIVERSITIES
Steve Howe, senior project manager, Imperial College London
Chart position now: 39
Last year: 33
Work procured in 2004: £97m
Keeping a 1960s-built college at the forefront of scientific innovation takes a lot of work, and in 2003-04, Steve Howe spent £97m on four major new-build projects and another 14 topping £1m to upgrade its labs and postgraduate research facilities. There's a lot more to be done – Imperial has just had its government grant funding confirmed and between 2006 and 2008 it will spend another £77m on construction.
For jobs under £10m, Howe sticks to a strict framework regime, with preferred suppliers on almost every aspect from project management to M&E engineers and planning supervisors; anything bigger goes through the Official Journal of the European Union to make sure it complies with regulations governing public funding.
What really puts Howe off is arrogance – "Those who just want to talk about themselves rather than what they can bring to a project. We're looking for people who are very experienced and confident, but we don't want any solo-fliers who won't put the college's needs first" – and he's looking for teamwork over bureaucracy. "We don't want people who produce loads of paperwork. Projects don't get built on paper, but by people coming together and coming up with solutions."
Impressed by … buildings that ARE CHEAP to maintain
No time for … building work disturbing exams and research
Worries that … online bidding demeans the industry by encouraging frenzied cost-cutting
THE NHS
Peter Woolliscroft, head of construction, NHS Estates
Chart position now: 1
Last year: 2
Work procured in 2004: £2.944bn
"Too many contractors think partnering is a way of getting closer to the people with the money and hoodwinking them into giving them more," complains Peter Woolliscroft. As supremo of NHS Estates partnering framework Procure 21 – procurer of £2.9bn worth of construction work in 2004 – it should come as no surprise that he'd like to see more collaboration in the industry.
And he wants this to start well before the first brick is laid, with both sides pooling their knowledge and experience. "A lot of builders will start putting one brick on top of another and make a wall. What I want is someone who will sit down and ask if I really want a wall and 'is that the best place for it guv'nor?'"
It doesn't stop there. Woolliscroft wants everyone round the table, not just the major contractors. "If there's a specialist roofing contractor, I want them there early on. It's the client who's got to maintain that roof for the rest of its life, not the contractor, the architect who designed it, or the QS who priced it."
Woolliscroft's best experiences are where this openness has been taken to its logical conclusion – on a handful of its projects, they have dispensed with separate advisory teams and had one QS, one engineering consultant across the whole development. "It's not two armies competing, there's a high level of trust on both sides."
Impressed by … openness in the supply chain
No time for … sticking to tradition for its own sake
Worries that … CONTRACTORS don't have enough confidence IN THEMSELVES
TELECOMS
Karl Pedder, head of BT property, services, British Telecom
Chart position now: 23
Last year: 26
Work procured in 2004: £185m
Karl Pedder sees his secretary even less than most busy executives – she works 40 miles away from his St Albans office. "She answers the phone in her house in Grays in Essex and puts calls through to me – nobody ever knows we're not in the same office." This is typical of the very flexible arrangements BT has in place for all its staff – after all, the company can't very well preach the benefits of modern communications to businesses if its own working practices are stuck in the dark ages of the 1980s.
From a construction point of view, keeping up with all this moving around is a big job – Pedder says he shifts 22,000 members of staff a year – and in 2004 it spent £185m on building work to adapt its network of 6500 buildings across the UK.
As with technology, BT's business needs change quickly and Pedder says contractors on its framework deals must be able to roll with the punches. "We like to work with people who can accept change as business as usual," he says. "Whatever contract you sign, something will change – the most successful jobs are where you don't have to turn to the contract, you work it out between you."
Impressed by … contractors who accept that clients' needs and plans will change
No time for … contractors buying work and ramping up costs with claims later
Worries that … construction doesn't have enough of a service culture
DEVELOPING
Steve McGuckin, head of project management, Land Securities Development
Chart position now: 5
Last year: 7
Work procured in 2004: £620m
Steve McGuckin is on the lookout for new talent. Land Securities Development spent £620m on construction work in 2004, with an average project value of £69m. McGuckin says it has a potential development pipeline of £3bn within its London and retail portfolios, and the Kent Thameside development. Land Securities does have a list of preferred suppliers, but McGuckin is open to offers, from both firms within the £20m-60m bracket and those who could join Bovis Lend Lease and Robert McAlpine to work on Land Securities' £100m-plus mixed retail and offices megaprojects.
"We're looking for firms that we can nurture," he says. "We need people working on projects that aren't big but special."
McGuckin isn't impressed by a smooth line in sales patter: "What puts me off is overselling and underdelivering. A lot of people make claims, but when you dig deeper you find their role wasn't quite what they said. If you're trying to win our business, you've got to be honest because we will check the facts."
So how should interested parties apply? "You just need to be the best at what you do – if you are, we'll find you."
Impressed by … excellent people
No time for … poor leadership on site
Worries that … contractors overstretch themselves and take on too much work
HOTELS
John Conlon, property director, Whitbread
Chart position now: 17
Last year: 25
Work procured in 2004: £250m
If you want to get John Conlon's attention, you'll need to have something pretty special up your sleeve. "We're looking for true innovation, true creativeness," he says. "There are loads of contractors out there and some are probably as good as what we've got, but unless people can demonstrate that to us, it's going to be difficult."
Conlon already has a list of preferred suppliers for works across Whitbread's chain of roughly 50 Mariott hotels – he spent £250m on new build and maintenance in 2004 – but he says there's room for more – he compares it to a football league table, with successful partners given more work and the less successful spending a season on the bench. But new contractors will have to take a novel approach to cutting costs and giving Whitbread that all-important competitive edge. "They really have to understand the business you're working in, not just construction. They have to be proactive in trying to make projects better value rather than expecting the client to lead it all." For example, one contractor has developed a simulator for teaching people to drive cranes, and another has offered to keep Whitbread's drawings up-to-date on its computer system. So what's the ultimate a contractor could offer Conlon? "Hotel rooms without windows, with plasma screens instead. Then we could fit a hotel into any environment."
Impressed by … creative problem-solving
No time for … contractors who don't understand the hotel business
Worries that … the industry still hasn't gone far enough towards partnering
SUPERMARKETS
Tony Mars, construction interface manager, J Sainsbury
Chart position: 40
Last year: 15
Work procured in 2004: £95.3m
Tony Mars is a very busy man. He should be – last year Sainsbury's spent £95.3m on construction for its network of 580 stores. "There's always a lot going on," he says and continues with an exhausting list of new-build and refurbishment work, all happening at the same time as a root and branch review of how Sainsbury's procures building work.
But no matter how much is underway, as far as Sainsbury's customers are concerned, it must be business as usual. Tony Mars has a construction background, but these days he prefers to see himself as a retailer and wants contractors who can do the same. "They've got to know what they're doing and see things from our customers' point of view because they'll be working in a live environment. The last thing we want is complaints from customers, local residents or our own in-house teams," he says.
It's essential that contractors have experience of the fast-paced retail sector, and for this reason, Mars favours a framework with five tried-and-trusted contractors, although given the demands of such a competitive business, he doesn't want unnecessary restrictions. "We tend to try and leave it as flexible as we can – you never know where this business will take you."
Impressed by … using modern methods of construction to cut costs
No time for … any defects in the finished product
Worries about … overcomplicating processes that should be straightforward
METHODOLOGY
Building would like to thank Camargue and Glenigan for their help in compiling this survey. A core list of the leading construction procurers was sourced from Glenigan and companies from last year's client survey were added. In January, 1000 questionnaires were sent out, requesting information on the amount they had spent between November 2003 and November 2004, the number of jobs and the scope of the work. The top 100 was compiled from this data, along with additional data from Glenigan. Each respondent also voted for the client they most admired.