Cutting edge technology: Revisiting GLC modelmaker Leslie Yeo's architectural models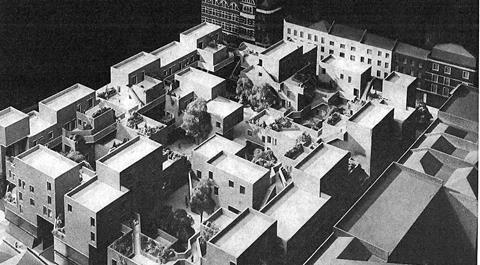 Convincing the client
You'll know from our series of articles on the use of BIM on Manchester Central Library how the client was persuaded to use the technology both to build and operate the building when it was shown how much time it could save.
Convincing the client is really the starting point of all building. But no amount of 3D modelling and BIM wizardry will have quite the same immediacy and selling power as an architectural model. On 29 April 1977 Building carried a piece showing the models of modelmaker Leslie Yeo who worked for the GLC's department of architecture for 30 years.
One of the "unbuilt" examples is a model of Parliament Square with a proposed new government office building at Broad Sanctuary and Denys Lasdun's proposed RICS building close by. The government block compares so badly with Lasdun's elegant RICS building, the article says, that "it's a wonder the scheme survived even half a glance at the model".
It goes on to marvel at how modelmaking techniques have changed to accommodate new materials and ideas. "Sponge trees have been superceded by trees made of strands of wire soldered together," it enthuses, as if the former belonged to the makeshift world of Blue Peter, whereas wire soldered together was wondrous cutting edge technology.
To read the full article from 29 April 1977, go to www.building.co.uk/archive