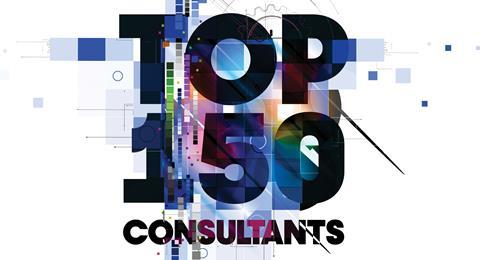 Top 150 Consultants 2018
Rank
Firm
Total UK chartered staff
Total UK staff
Worldwide staff
Annual UK fees (£'000)
Offices
2018
2017
2017
2018
2017
2018
2017
2018
2016/2017 financial year
2017/2018 financial year
UK
Worldwide
1
1
Mott MacDonald
3,692
3,697
7,107
7,115
16,006
15,642
£560,600
£663,700
38
134
2
2
Aecom
3,003
2,767
6,962
6,054
77,554
78,366
£494,000
£620,000
42
630
3
4
WSP UK1
-
2,329
-
6,481
-
-
£432,172
-
60+
500
4
3
Arcadis
1,923
2,109
3,356
3,671
27,000
27,327
£424,000
£445,000
26
350
5
5
Arup2
1,802
1,901
5,308
5,599
14,134
14,847
£553,000
£600,000
14
73
6
6
Turner & Townsend
1,660
1,823
2,350
2,554
4,674
5,209
£212,000
£239,000
17
91
7
8
Mace3
1,387
1,556
3,760
3,952
5,314
6,048
£1,412,776
£1,318,875
15
45
8
13
RPS4
-
781
-
2,530
-
5,340
£189,000
£203,000
57
77
9
12
Ramboll
617
706
1,171
1,293
13,407
14,196
£102,130
£106,800
17
300+
10
10
Gardiner & Theobald
628
668
803
813
942
954
£141,000
£146,000
11
3
11
9
Faithful + Gould
644
667
933
960
2,248
2,241
£126,000
£128,000
23
46
12
11
Gleeds
626
583
1,232
1,233
1,761
1,920
£89,763
£109,150
21
50
13
17
BDP5
468
529
807
878
932
1015
£71,824
£69,405
6
6
14
15
Foster + Partners
402
395
1,058
1,064
1,280
1,299
£23,000
£25,000
1
11
15=
14
Hoare Lea
358
369
841
859
841
859
£64,700
£67,100
11
2
15=
20
Rider Levett Bucknall UK
264
369
455
586
3,600
3,600
£50,060
£58,730
10
110
17
16
BuroHappold
394
340
1,071
1,029
1,840
1,772
£87,100
£95,200
5
17
18
18
Currie & Brown
340
337
576
548
1,837
1,890
£54,000
£57,000
21
45
19
25
Pick Everard
319
326
401
474
511
510
£39,000
£46,000
11
0
20
19
Peter Brett Associates
320
315
682
694
692
713
£59,245
£61,090
14
1
21
27
Systech International
247
256
278
288
520
556
-
-
3
20
22
-
Allford Hall Monaghan Morris
244
247
370
395
375
407
-
-
1
1
23
7
JLL
214
246
2,758
3,007
74,555
80,990
-
-
15
300+
24
24
Pell Frischmann
208
245
558
606
887
937
£32,900
£42,000
11
6
25
26
Ridge & Partners
197
231
486
632
490
632
£45,000
£49,000
10
1
26
23
Sweco UK
193
213
804
890
804
890
£60,241
£71,677
14
0
27
29
Cundall
183
200
561
601
695
887
£36,000
£26,800
6
21
28
22
NPS Group
224
194
784
719
924
902
£91,200
£87,800
18
0
29
28
Allies and Morrison
189
179
337
344
337
345
£43,400
£40,585
4
1
30
21
HaskoningDHV UK
235
178
650
524
5,804
5,120
£25,561
£31,181
13
93
31
31
Sheppard Robson
174
165
345
359
345
359
na
na
3
0
32
35
CPC Project Services
150
161
180
185
180
185
£16,394
£21,672
7
0
33
33
Hilson Moran
156
157
245
246
257
264
£19,000
£19,400
4
2
34
36
Stride Treglown
149
154
323
334
323
334
£21,500
£20,100
9
0
35
37
Butler & Young
134
153
140
160
140
160
£9,264
£9,200
14
0
36
-
Feilden Clegg Bradley Studios
154
149
203
195
203
195
£16,118
£16,304
4
0
37
42=
Malcolm Hollis
116
147
291
367
309
386
£29,117
£32,325
18
5
38
39
Scott Brownrigg
124
127
241
244
249
257
£20,829
£22,298
5
3
39=
40
AHR
120
123
327
308
391
385
£25,967
£27,678
5
9
39=
38
Stace
122
123
182
182
182
182
£17,408
£18,512
5
0
41
41
TP Bennett
119
111
312
303
312
303
£27,200
£27,200
2
54
42
45
Riley Consulting
102
109
217
220
224
229
£17,248
£17,662
13
2
43
47
Curtins Consulting
96
105
368
400
370
407
£30,518
£33,795
13
1
44
48
WT Partnership
92
96
150
160
1,200
1,300
£13,400
£14,500
11
58
45
44
PRP
108
94
257
248
-
-
£23,735
£25,358
3
1
46
50=
EPR Architects
84
92
160
157
180
214
£13,000
£15,700
1
0
47
95=
JNP Group Consulting Engineers
81
91
107
123
107
123
£6,500
£6,700
5
0
48
46
Broadway Malyan
100
89
270
256
540
503
£32,300
£28,800
5
10
49
49
Calfordseaden
85
88
250
279
250
279
-
-
6
0
50=
-
Donald Insall Associates
72
82
118
131
118
131
£7,320
£8,080
8
1
50=
56=
Tuffin Ferraby Taylor6
75
82
122
126
122
126
£13,723
£14,105
7
0
52=
53
Levitt Bernstein7
81
81
137
137
137
137
£10,570
£10,400
2
0
52=
55
Pellings
78
81
135
139
135
139
£10,750
£11,500
5
0
54
52
Pollard Thomas Edwards
82
80
149
161
149
161
£10,752
£11,119
1
0
55
58=
AKT II
72
79
248
268
248
268
£15,640
£17,850
1
0
56=
58=
Baily Garner
74
78
155
160
155
160
£10,100
£10,800
3
0
56=
-
BWB Consulting
69
78
270
281
270
281
£19,750
19600
6
0
58=
70
Core Five
59
74
95
115
95
115
£9,400
£13,500
1
1
58=
54
HTA Design
79
74
187
199
170
199
£12,700
£13,600
4
0
58=
58=
Schofield Lothian
73
74
113
109
113
109
£10,400
£10,700
1
0
61=
65=
JMArchitects
63
70
106
111
106
111
£6,380
£6,400
4
0
61=
61=
Kendall Kingscott
64
70
134
147
134
147
£8,075
£8,230
4
0
63
64
Potter Raper Partnership
66
67
173
176
173
176
£12,117
£11,923
4
0
64
56=
ADP
75
66
113
101
123
111
£7,539
£7,598
7
1
65
68
AA Projects
62
64
110
125
110
125
£7,723
£9,348
7
0
66
65=
Fletcher Priest Architects
64
63
112
120
112
120
£10,100
£9,900
1
2
67=
75=
Bryden Wood Technology
54
62
178
188
179
205
£8,355
£9,971
2
2
67=
77=
John Rowan and Partners
52
62
95
85
95
85
£6,723
£6,901
2
0
69=
61=
3DReid
51
61
138
117
138
117
£9,000
£8,000
5
0
69=
92=
AWW
54
61
70
77
87
99
£6,900
£7,100
3
3
69=
77=
Bailey Partnership
50
61
99
108
99
108
£7,400
£7,950
4
0
72=
72
Clancy Consulting
57
58
188
191
188
191
£11,158
£12,273
10
0
72=
80=
Price & Myers8
49
58
184
173
184
173
£15,800
£15,000
3
0
74
86=
Ingleton Wood
46
57
170
187
170
187
£12,800
£13,500
6
0
75=
80=
HLM AD
49
55
161
167
171
177
£10,841
£8,135
7
2
75=
90=
Rex Procter and Partners
57
55
104
100
104
100
£10,605
£9,475
4
0
77
80=
Alinea Consulting
49
54
82
91
82
91
£10,500
£13,200
1
0
78=
50=
CampbellReith
66
53
160
153
162
155
£13,237
£13,306
5
2
78=
88
Child Graddon Lewis
44
53
51
61
51
61
£3,400
£3,400
2
0
78=
74
Robinson Low Francis
54
53
110
105
110
105
£9,736
£10,093
5
0
81
69
Jestico + Whiles
61
52
107
97
128
121
£7,100
£7,900
1
1
82=
73
Thomasons
44
50
129
130
129
130
£11,000
£11,097
9
0
82=
108=
Whittam Cox Architects
55
50
138
125
138
125
£8,017
£7,500
3
0
84
80=
Stockwool
49
49
73
73
73
73
£5,000
£6,000
1
0
85
92=
TowerEight
41
48
65
80
65
80
£10,900
£12,500
1
0
86=
77=
Aukett Swanke
53
47
106
94
404
349
£12,200
£8,765
1
8
86=
100=
ECE Architecture
39
47
66
85
66
85
£4,750
£5,750
3
0
86=
80=
Lewis & Hickey
49
47
100
79
108
91
£4,621
£4,680
5
1
86=
97=
McAndrew Martin
39
47
65
71
65
71
£1,560
£1,800
3
0
90
100=
TSP Projects
39
46
364
422
364
422
-
£29,600
5
0
91
-
Thomas and Adamson
42
45
92
98
140
150
£6,963
£7,236
3
4
92=
-
Hurley Palmer Flatt
36
43
39
52
133
122
£22,200
£22,300
5
5
92=
-
Artelia9
43
43
96
108
4,000
4,900
£10,460
12590
1
85
94
146=
DarntonB3 Architecture
43
40
116
115
116
115
£6,926
£6,200
7
0
95=
97=
Baqus Group
39
38
83
74
83
74
£6,200
£5,900
9
0
95=
99
Holder Mathias Architects
38
38
55
61
55
61
£4,250
£4,600
2
1
95=
75=
Leslie Clark
38
38
80
78
80
78
-
-
4
2
98=
89
Jackson Coles
43
37
59
55
59
55
£7,600
£6,300
2
0
98=
100=
LSI Architects
36
37
62
66
62
66
£3,400
£3,470
2
0
100=
106=
P+HS Architects
35
36
56
63
56
63
£3,526
£4,355
3
0
100=
112=
Pozzoni Architecture
31
36
53
73
53
73
£3,683
£4,288
2
0
100=
110=
Ward Williams Associates
33
36
78
84
78
84
£5,700
£6,000
6
0
103=
117=
Bruce Shaw
29
33
84
79
84
79
£8,234
£7,600
4
0
103=
119=
Meinhardt (UK)
26
33
88
97
3,547
3,482
£6,527
£7,932
1
47
103=
110=
R H Partnership Architects
32
33
62
61
62
61
£3,140
£3,600
3
0
106=
119=
Fulkers
24
32
59
71
59
71
£4,200
£4,600
6
0
106=
106=
Stephen George + Partners
35
32
85
85
85
85
£5,900
£7,300
5
0
108
138=
Clague
28
31
54
57
54
57
£3,576
£3,272
3
0
109=
115=
Martin Arnold
25
30
76
88
76
88
£4,500
£5,200
2
0
109=
129=
Silcock Leedham Group
27
30
34
35
37
38
£2,900
£2,800
3
2
109=
-
Naismiths
18
30
35
63
35
63
£3,820
5062
7
0
112=
129=
IDP Group
26
29
91
95
91
95
£3,459
£6,686
3
3
112=
112=
Keegans
31
29
64
57
64
57
£4,800
£5,100
2
0
114=
108=
Concertus Design & Property Consultants
21
28
48
62
48
62
£7,000
£7,200
1
0
114=
-
Emmaus Consulting
26
28
30
32
30
32
£2,700
£3,100
2
0
114=
149=
Norman Rourke Pryme
28
28
41
43
41
43
£3,800
£4,500
4
2
114=
126=
Pulse Associates
20
28
21
30
21
30
£1,500
£1,800
3
0
118=
121=
Airey Miller
25
27
59
65
59
65
£4,056
£3,315
4
4
118=
117=
Grid Architects
25
27
48
52
48
52
£4,350
£3,900
1
0
120
80=
Clarkebond (UK)
0
26
0
86
0
86
-
£5,500
3
3
121=
121=
Penoyre & Prasad
28
25
40
39
40
39
£4,854
£3,044
1
0
121=
100=
Summers Inman Construction and Property Consultants
35
25
100
103
100
103
£7,950
£8,700
6
0
121=
Thomson Gray
20
25
31
38
31
38
£2,749
£3,141
5
0
124=
132=
Barker Associates
20
24
48
54
48
54
£3,500
£4,000
2
0
124=
135=
KAM Project Consultants
20
24
27
34
27
34
£2,800
£4,600
2
0
124=
115=
DSSR
27
24
100
90
100
90
£8,300
£7,500
4
0
127=
132=
Gray Baynes and Shew
21
23
23
25
23
25
£2,400
£2,600
2
0
127=
145
Walker Sime
17
23
49
57
49
57
£4,300
£5,500
4
0
129=
135=
Equals Consulting
20
22
41
46
41
46
£4,886
£5,770
1
0
129=
138=
Procom Construction Consultants
19
22
27
35
27
35
£2,500
£2,100
2
0
129=
129=
Synergy Construction and Property Consultants
22
22
83
79
83
79
£5,600
£6,100
3
0
132=
141=
Elementa Consulting
18
21
69
69
377
502
£6,202
£6,476
2
13
132=
135=
Lyons O'Neill
18
21
19
22
19
22
£1,800
£1,800
1
0
134=
-
Projex Building Solutions
19
20
41
38
41
38
£3,800
£4,100
3
0
134=
-
Civic Engineers
12
20
59
75
59
75
£3,633
£4,784
4
0
136
-
Webb Yates Engineers
15
19
51
62
63
73
£3,000
£3,900
3
1
137=
149=
Chaplin Farrant Design Group
14
17
39
43
39
43
£2,061
£1,790
3
0
137=
-
Rolton Group
16
17
65
74
65
74
£5,500
£6,000
3
0
139
-
Red Engineering Design
13
15
90
111
174
214
£7,100
£7,700
3
5
140=
-
Anderton Gables
11
14
18
22
18
22
£1,269
£1,682
3
0
140=
-
Hargreaves Jones
9
14
28
34
28
34
£3,050
£2,850
2
0
140=
141=
Iesis Group
10
14
42
53
42
53
£4,400
£4,200
3
0
140=
-
NDC 2000
14
14
42
38
42
38
£4,180
£3,360
3
0
144=
-
Christopher Smith Associates
13
13
43
44
43
44
£3,915
£4,264
3
0
144=
-
CTP Consulting Engineers
11
13
36
44
36
44
£4,100
£4,250
1
0
146=
-
Castons
12
12
39
39
39
39
£2,870
£3,990
3
0
146=
-
SDA Consulting
11
12
26
27
26
27
-
-
1
0
148
104=
Hunters South Architects
9
11
24
26
24
26
£2,670
£2,400
1
0
149
-
Poole Dick
11
10
29
27
29
27
£1,853
£1,905
2
0
150=
-
QODA
8
9
38
46
38
46
£2,700
£3,200
3
0
150=
-
Services Design Solution
6
9
49
57
49
50
£3,190
£3,420
3
0
Methodology
Close to 250 firms were contacted for this year's Building Top Consultants survey. They were sent a survey form asking them to provide details on the number of chartered staff, non-chartered and technical staff, and on their domestic and worldwide fee incomes.
Practices were also asked questions relating to: staff recruitment, wage patterns, margins, areas of work, and work expectations. All data in the attached tables are taken directly from firms' replies.
The survey does not claim to list all the top consultants, as it relies upon firms completing and returning the annual survey form. For a variety of reasons firms sometimes decide not to take part.
Only those firms completing and returning the survey form are included in the survey.
Firms having any questions about the survey, or wishing to be included in the 2019 survey, should contact Martin Hewes at Hewes & Associates: www.hewes-associates.com.
Notes
1. WSP UK: Chartered total includes 1,193 other chartered, not identified in any questions
2. Arup: Income data for 2018 are unaudited and provisional
3. Mace: Income data refers to the total group, and thus includes construction
4. RPS: 2017 employment data are non-comparable and have thus been excluded
5. BDP: Totals include other chartered staff
6. Tuffin Ferraby Taylor: 2017 data are taken from 2017 survey results
7. Levitt Bernstein: Income figures are estimates
8. Price & Myers: Fee income for 2018 is estimated
9. Artelia: Worldwide income is converted from euros
10. Stride Treglown: Other engineers include town planner, landscape architects, and architectural technologist staff
Additional note: Due to an administrative error, HTA Design LLP (ranked 58=), TowerEight (85), McAndrew Martin Ltd (86=), Ward Williams Associates LLP (100=), R H Partnership Architects Ltd (103=), Penoyre & Prasad (121=) and Thomson Gray Ltd (121=) were not originally included in the Top 150 Consultants table. This table was updated on Tuesday 2 October to reflect their rank. As a result of this change, the following organisations no longer appear on the table: MacConvilles (now ranked 152=), Prosurv Consult (152=), BE Design (152=), Piper Whitlock Architecture (152=), ST1 Group (156) and Adept Consulting Engineers (157).