Brexit is yet to do significant damage to the hardy consultants in this year's top 150 tables. But those near the top are making careful preparation for an economic storm, geopolitical shifts and seismic changes from digitalisation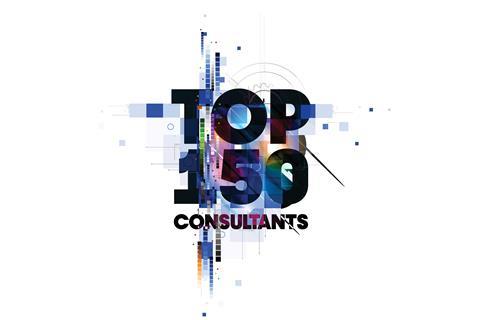 Full list of Building Top 150 Consultants tables
If anyone thought that 2018 was the year that the construction industry would really start to feel the pinch from Brexit, then nobody seems to have told the sector's biggest consultants. Building's annual survey of the Top 150 architects, engineers, surveyors and project managers finds much of the sector – if not quite all – in fairly rude health. Well over two-thirds of firms have grown overall staff numbers, with average headcount growth exceeding 7%. And 93% report having raised staff salaries in the past year, with three-quarters saying they plan to increase staff numbers in the year ahead.
And yet, the survey also reveals signs of the political uncertainty starting to take its toll. While relatively few – one in six – admit to a negative economic outlook for the year ahead, confidence is lower than last year. Likewise, while margins are still way ahead of where they were in the recession, they are showing the first signs of tightening, with fewer businesses reporting comfortable 8%-plus returns.
"We don't see things changing at the moment and we're going into 2019 ready to face Brexit head on"

Andrew Henderson, Ramboll
James Clark, founding partner of 115-strong London-based QS Core Five, says: "We've just had our best year to date. But the market is at that point where it's on the cusp of turning." With Brexit looming in March next year, it appears many consultants are asking what they can do to prepare their businesses for both the opportunities and the threats that this once-in-a-lifetime political schism will present.
Nevertheless, despite all these reasons to be fearful, consultants in 2018 are more likely to have been challenged by problems of quick expansion than by worries over workload or cuts.
Andrew Henderson, executive director for buildings at engineer Ramboll, which this year added almost 100 chartered staff, putting the firm into the consultants' top 10 for the first time, says: "We've had a great year to date. People thought 2018 was going to be the year it all turned, and it didn't. We don't see things changing at the moment and we're going into 2019 ready to face Brexit head on."
"We've just had our best year to date. But the market is at that point where it's on the cusp of turning"

James Clark, Core Five
Growing pains
SME surveyor Naismiths grew fastest, with a near-doubling of its staff. But even some very large firms, including Ridge and Rider Levett Bucknall, grew staff by more than one-quarter. Ridge's senior partner Adrian O'Hickey says: "We're growing at a significant pace, so my focus is to maintain culture and quality of service delivery and keep growth sustainable." Likewise, Chris Harding, chair of architect and engineer BDP, which grew chartered headcount by 13%, says: "I think we're in the sweet spot. The issue is not being complacent."
This, then, is the positive backdrop for the darker omens others are spying. Those working in the London commercial and high-end residential markets are undoubtedly at the sharp end. Core Five's Clark says: "These are uncertain times. With all of the political uncertainty, investment decisions get pegged back through caution. It's not everybody, but there is a slight reluctance from clients to make decisions on projects."
"People talk about Brexit, but much more important are mega trends like urbanisation, planet resilience, and digital transformation"

Mike Haigh, Mott Macdonald
But it's not only commercial clients. The political uncertainty also has potential ramifications for big public sector projects. David Barwell, UK chief executive of engineering giant Aecom, says: "It's not Brexit itself, but uncertainty about the shape of government, which causes projects to be pushed out to the right [delayed]. Projects like HS2 or the [Heathrow] third runway get challenged."
While Barwell says there are bright spots such as the high-tech manufacturing and labs sector, the privately funded Heathrow Southern Rail project, in which Aecom is an investor, is for example going "a lot slower" than hoped. Referring to Brexit as "the B-word", he says: "People are distracted. Government is distracted."
Eye-watering
Core Five's Clark says he's aware that some firms have started making redundancies, feeling the chill winds. In fact, Barwell's Aecom is one example, having cut both back-office and front-line roles in a restructuring earlier this year. While Aecom's global staff numbers are up, its UK headcount fell by 900 staff this year, a drop of 13% – though it is still the UK's second-biggest consultant in the tables. "These operational changes make us more efficient, make us leaner and fitter," Barwell says. "In this type of market the power goes to the client, and there's a commodification of services."
"In this type of market the power goes to the client, and there's a commodification of services"

David Barwell, Aecom
Even where growth has occurred, it seems to be a dedicatedly lean growth. While the number of fee-earning technical staff in the top 150 firms has risen by 18% since 2017, and the number of chartered staff by 9%, the number in support functions such as admin, HR and finance has risen by just 3%.
Certainly, Barwell is not the only person to report pressure from the increasing commodification of traditional services, and instances of competitors "low-balling" – bidding very low to try to win work. Some clients appear to be getting more demanding, with 36% of firms saying clients are expecting more work for the same fees (only 19% report more fees for the same work). However, Clark says most of the industry is so far holding the line on price, a view supported by the survey, with 55% of firms reporting stable margins, and one-third saying they are still increasing.
But for how long? BDP's Harding reports "eye-watering" bids on some projects and Mark Cowlard, UK chief executive at Arcadis, says "low-balling" is being seen "across the piece". Clark says: "A number of majors are desperate to fill their order books and there's a strong possibility they will squeeze margins." Ramboll's Henderson says: "The biggest threat is people panicking. We don't want a race to the bottom. There are one or two market segments that are becoming defined by price. It's not widespread but some clients are taking advantage of some very low prices."
Turbulence
Firms are responding to this uncertainty by finding ways to stay nimble and flexible. The biggest, such as Mott MacDonald, Aecom and Arcadis, all say they have carried out Brexit contingency planning, and will use their global reach to ride out any Brexit-related turbulence. Mike Haigh, group managing director at engineer Mott MacDonald, says: "Our digital transformation means we have the ability to share resources across the globe, so having people in one place isn't necessarily dependent upon winning work in that place. The more flexible we are as an organisation will put us in a better place."
Likewise, Arcadis' Cowlard says: "We've spent a long time looking at what's the risk in each sector and, vitally, how can we mitigate this by identifying opportunities. Our overseas resource centres give us resilience as a lot of what we do can be done from anywhere in the world. My sense is that we will continue to grow next year, but at a slower rate than we have done."
For smaller practices, achieving post-Brexit agility means developing expertise in different sectors, and staff having the ability to cross from one type of project to another. Ridge's O'Hickey says: "Because we're not wholly focused on one offering for one sector, any shifts in the market are opportunities as well. Our people tend to work across sectors, which allows us to flex the business more easily. As long as we're agile, these challenges provide us with opportunities."
Transformation
In fact, while there is no doubt that with the looming March deadline Brexit is the topic of the moment, most consultants feel that longer-term trends, including the drive towards a more integrated, collaborative industry, will ultimately have a much more profound impact on the sector. The two items seemingly at the top of the non-Brexit list for consultants are the pressure from clients to commodify the provision of services, and the rush to digitalisation – to some extent flip sides of the same coin. Mott's Haigh says: "People talk about Brexit, but much more important are mega trends like urbanisation, planet resilience, and digital transformation. My main worry is the fact we're in a world changing so quickly in terms of digitisation, and we need to be very aware of how we're investing and planning for this."
Arcadis' Cowlard is tackling these twin challenges by trying to respond directly to what customers need, rather than sell them specific services. "This is driven by the need to differentiate ourselves. There is absolutely commodification going on, strongly in some places," he says, adding that investing in technology will enable this differentiation. "Digital transformation means thinking hard about what is the role of the QS? What is the role of the design engineer?"
Some of this, he admits, means developing digital tools, like the CostX estimating software, that partly automate traditional services. But it also means the offering of new services, such as software that can automatically estimate the implication of design changes to not only the construction cost but also the developer's return, in real time as they're made.
So if Brexit is a big unknown, it is these issues that may ultimately do most to shape the sector for years to come. In the short term, for the most part, hope and caution hold equal sway. "I went into 2018 a little bit concerned," says Haigh. "That's still the case with 2019. But we're still seeing growth, the order book is solid and there are good opportunities. We're cautiously optimistic." The industry will hope the optimism is more justified than the caution.
Methodology
Close to 250 firms were contacted for this year's Building Top Consultants survey. They were sent a survey form asking them to provide details on the number of chartered staff, non-chartered and technical staff, and on their domestic and worldwide fee incomes.
Practices were also asked questions relating to: staff recruitment, wage patterns, margins, areas of work, and work expectations. All data in the attached tables are taken directly from firms' replies.
The survey does not claim to list all the top consultants, as it relies upon firms completing and returning the annual survey form. For a variety of reasons firms sometimes decide not to take part.
Only those firms completing and returning the survey form are included in the survey.
Firms having any questions about the survey, or wishing to be included in the 2019 survey, should contact Martin Hewes at Hewes & Associates: www.hewes-associates.com.
Notes
1. WSP UK: Chartered total includes 1,193 other chartered, not identified in any questions
2. Arup: Income data for 2018 are unaudited and provisional
3. Mace: Income data refers to the total group, and thus includes construction
4. RPS: 2017 employment data are non-comparable and have thus been excluded
5. BDP: Totals include other chartered staff
6. Tuffin Ferraby Taylor: 2017 data are taken from 2017 survey results
7. Levitt Bernstein: Income figures are estimates
8. Price & Myers: Fee income for 2018 is estimated
9. Artelia: Worldwide income is converted from euros
10. Stride Treglown: Other engineers include town planner, landscape architects, and architectural technologist staff