The Irish equivalent of the National Trust has lost its legal battle against the government's decision to grant planning permission to the project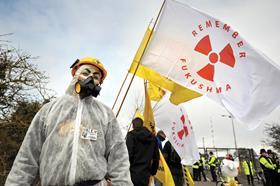 A legal challenge to the £16bn Hinkley Point nuclear power station project by Ireland's equivalent of the National Trust has been rejected by the Court of Appeal.
In May 2013, An Taisce - Ireland's equivalent of the National Trust - launched a High Court challenge to energy secretary Ed Davey's decision to grant the project planning permission in April 2013.
It argued that under European law the citizens of Ireland should have been consulted on the plans for the plant because of the proximity of the scheme to the Irish coast.
The group argued the Irish public and the environment could be affected by any disaster at the plant and any subsequent leakage of radiation because the plant is situated just 150 miles from the Irish coast.
The case was dismissed in January this year with a judge ruling that Davey's decision was made properly and An Taisce could not have permission to lodge a judicial review.
It took its case to the Court of Appeal but on Friday a panel of three judges upheld the High Court's decision.
Lord Justice Sullivan, said there was only a "very low probability" of damage to the environment from a nuclear accident and therefore Davey did not have to consult the Irish public under EU law.
An Taisce had also argued Davey could not simply rely on the regulatory regime for new nuclear power plants to pick-up and plug any gaps in the design or construction of the plant to ensure it did not damage the environment and that he needed all the information to make a proper decision.
But Lord Justice Sullivan also rejected this argument.
He said: "Many major developments, particularly the kind of projects that are listed in Annex I to the European Environmental Impact Assessment (EIA) Directive, are not designed to the last detail at the environmental impact assessment stage.
"There will, almost inevitably in any major project, be gaps and uncertainties as to the detail, and the competent authority will have to form a judgement as to whether those gaps and uncertainties mean that there is a likelihood of significant environmental effects, or whether there is no such likelihood because it can be confident that the remaining details will be addressed in the relevant regulatory regime."